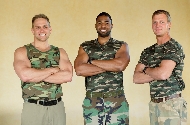 Expedition Impossible," announced the show's 13 teams, and here at Series & TV we are introducing you to each and one of them.
Now it´s time to introduce you to the third team: The Country Boys.
Who are The Country Boys – Expedition Impossible Team?
Nicholas Coughlin (28)
Clinton, MS
Internet Marketing/ Entrepreneur
Jason Cronin (37)
Pensacola Beach, FL
Business Owner/Entrepreneur
Chad Robinson (27)
Bolton, MS
Real Estate Investor
Hailing from the country backwoods of Mississippi, Nick, Jason and Chad are true Southern cowboys who know a thing or two about surviving. Jason has survived cancer, Crohn's disease and the West Nile Virus, and was told he would only have six months to live… three years later he's still going strong. All standing over 6'3″, these athletic country boys are ready to use size to their advantage and dominate the competition.
Will you root for The Country Boys in Expedition Impossible? Let me know in the comments section.
Also, remember to follow me on Twitter for more Expedition Impossible scoop.
You can also, if you are in a rush, meet all Expedition Impossible teams in these two videos.
Expedition Impossible Meet The Teams Video – Part 1
Expedition Impossible Meet The Teams Video – Part 2
Comments
comments