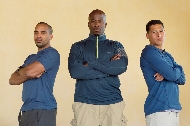 "Expedition Impossible," announced the show's 13 teams, and here at Series & TV we are introducing you to each and one of them.
Now it´s time to introduce you to the second team: The Football Players.
Who are The Football Players – Expedition Impossible Team?
Akbar Gbaja-Biamila (31)
Los Angeles, CA
Broadcaster
Robert Ortiz (27)
Solana Beach, CA
Business Owner
Ricky Sharpe (31)
Costa Mesa, CA
Health and Fitness Consultant
These three former NFL players met while playing football for San Diego State University. Akbar was a linebacker for the Oakland Raiders and later the San Diego Chargers. Robert also played for the Chargers as a wide receiver, and Ricky spent several seasons with the Cleveland Browns and Miami Dolphins. They consider themselves to be hyper competitive and willing to do what it takes to win under any circumstances.
Will you root for The Football Players in Expedition Impossible? Let me know in the comments section.
Also, remember to follow me on Twitter for more Expedition Impossible scoop.
You can also, if you are in a rush, meet all Expedition Impossible teams in these two videos.
Expedition Impossible Meet The Teams Video – Part 1
Expedition Impossible Meet The Teams Video – Part 2
Comments
comments