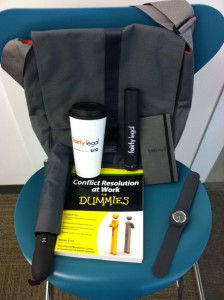 We always have good contests from great shows. This time, there´s no exception. A new contest for Fairly Legal fans to win a great prize pack from the show.
In this prize pack, we are going to get a whole Conflict Resolution Pack. Awesome, right?
In the second season of FAIRLY LEGAL, feisty and passionate mediator Kate Reed (Sarah Shahi) has a new conflict – and potential hot romance – on her hands in the form of the sharp, hustling, up-and-coming trial attorney Ben Grogan, played by new series regular Ryan Johnson. Hired by managing partner Lauren Reed (Virginia Williams) to save the firm on the verge of collapse, Ben's presence adds fuel to Kate's already at-odds relationship with her same-aged stepmother and puts pressure on her relationship with her soon-to-be-ex-husband, Justin Patrick (Michael Trucco).   While Ben's ambulance chasing ways represent everything Kate hates about lawyers, their sexual tension and chemistry is undeniable.
What can you win on the Fairly Legal contest and giveaway? Prize pack contains:
Fairly Legal Bag
Slap On Watch
Conflict Resolution for Dummies
USA Umbrella
Fairly Legal Notebook
Fairly Legal Pencil Set
Fairly Legal Travel Mug
This prize pack has a retail value of $150
HOW TO ENTER fairly legal CONTEST AND GIVEAWAY?
Head to the comments and answer me this: What´s the main reason for you to watch the show?
Now for the answers, you´ll have to put yours in the comments section (make sure you fill the form with a valid e-mail address and put guillermo @ seriesandtv.com in your white mail list so if you are the winner you can get my e.mail letting you know, since I´ll contact the winner through e-mail).
HOW TO GET EXTRA ENTRIES:
– Like Series and TV on Facebook
– Like this article on Facebook
– Tweet this article
– Pin This Article
Will you enter Fairly Legal contest and giveaway? Let me know in the comments section.
Also, remember to follow me on Twitter for more Contests and Giveaways.
US Winners only.
Comments
comments