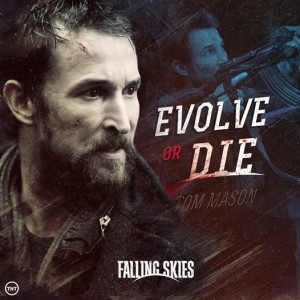 A good show needs good closure. And that is what this means exactly for Falling Skies, the chance to go out in its own terms, and present a ten episodes final run to fullfill expectations, as TNT renewed Falling Skies for season five.
Michael Wright, president, head of programming for TNT, TBS and Turner Classic Movies (TCM) said about the renewal "Falling Skies has begun an ambitious and thrilling story arc this summer as it sets the stage for next year's climactic final season." Falling Skies has averaged more than 5.5 million viewers in Live + 7 delivery for its fourth season, including 2.5 million adults 25-54 and 2.1 million adults 18-49. It ranks behind The Last Ship and Rizzoli & Isles among basic cable's Top 3 scripted series this summer with adults 25-54.
TNT's epic drama Falling Skies – from Amblin Television and executive producer Steven Spielberg – tells the extraordinary story about life and survival in the wake of a catastrophic alien invasion. Noah Wyle stars as Tom Mason, a college professor who became an unlikely resistance leader. Moon Bloodgood is Dr. Anne Glass, a pediatrician who became the survivors' primary physician and eventually fell in love with Tom. Will Patton is Colonel Weaver, the gruff and emotionally scarred commander leading the battle against the invaders.  Also starring in Falling Skies are Drew Roy, Connor Jessup, Maxim Knight, Colin Cunningham, Seychelle Gabriel, Mpho Koaho, Sarah Carter, Doug Jones and Scarlett Byrne. Since premiering as basic cable's #1 new series of 2011, Falling Skies has ranked as one of the Top 20 original series on basic cable with total viewers and key adult demos. In addition to Spielberg, Falling Skies is executive-produced by Amblin Television heads Justin Falvey and Darryl Frank, along with David Eick and Greg Beeman.
What do you think? Are you happy TNT renewed Falling Skies for a final fifth season? Follow me on Twitter for more scoop.
Comments
comments