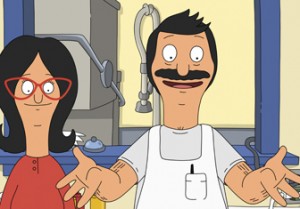 Article by Guillermo Paz
Yet another not so surprising turn of events in the renewal front, as Fox decided to bring back Bob´s Burgers for a fifth run of the animated comedy that is a part of Fox´s animation block. The new order for Bob includes 22 more episodes that will air in 2014 as was announced by Kevin Reilly, Chairman of Entertainment, Fox Broadcasting Company.
BOB'S BURGERS is one of those rare finds that just continues to outdo itself, creatively," said Reilly. "The show has become a key member of our Sunday ANIMATION DOMINATION family, and we're looking forward to attracting new fans with another season."
There were no to little doubts about this renewal, as Bob´s Burgers was a top ten show in comedy for males 18-49 and male teens. Both demos bring a lot of advertising money, so, cha-ching for Fox, and a sure renewal for Bob´s Burgers, and viewers happy to have their fave show back. A win-win-win situtation.
The show is about to premiere season four, but already locked down the comeback for the next one, and the announcement was a great plug for the premiere of season four too.  In the upcoming season premiere, "A River Runs Through Bob," airing this Sunday, Sept. 29 (8:30-9:00 PM ET/PT) on FOX, Bob (H. Jon Benjamin), Linda (John Roberts) and the kids go on a camping adventure and face the perils of nature…and Bob's intestines.
What do you think? Are you happy Bob´s Burgers got renewed? Let me know in the comments section. Follow me on Twitter for more scoop or check the complete and updatable lists of renewed shows of 2013 and cancelled shows of 2013.
Comments
comments