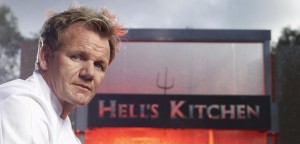 You knew that Gordon Ramsay was coming back on Fox, of course, but did you know that we was going to be on five shows next season? Yup, Five as in Cinco! As Fox renewed Hells Kitchen for season 13.
FOX has picked up JUNIOR MASTERCHEF, a new culinary competition series for talented kids between the ages of eight and 13 who love to cook, as part of a new multi-year deal with award-winning chef Gordon Ramsay, it was announced today by Mike Darnell, President of Alternative Entertainment, Fox Broadcasting Company.
JUNIOR MASTERCHEF is based on the hugely successful U.K. format and extends the MASTERCHEF brand in the U.S. to include a younger group of aspiring masterchefs. Produced by Shine America and One Potato Two Potato, JUNIOR MASTERCHEF will give budding cooks the exciting opportunity to showcase their talent, culinary smarts and passion for food through a series of delicious challenges and cook-offs. Similar to MASTERCHEF, Ramsay will be joined by restaurateur and winemaker Joe Bastianich (Del Posto, Eataly) and acclaimed chef Graham Elliot (Graham Elliot, Graham Elliot Bistro) on the JUNIOR MASTERCHEF judging panel. Together, the celebrated food experts will coach and encourage the promising hopefuls to cook like a pro and teach them the tricks of the trade along the way.
HELL'S KITCHEN, which is airing its 11th season, currently ranks as TV's No. 1 cooking show in Total Viewers, while MASTERCHEF finished its third season as a Top 5 summer series and was the only summer show to post year-over-year gains. In fact, this past summer, Ramsay's shows accounted for four of the Top 6 entertainment programs among Adults 18-49 in broadcast primetime and all three of the Top 3 programs among Adults 18-34.
Now Hells Kitchen is going to come back for season thirteen, making its renewal the confirmation that it will have at least two more cycles.
What do you think? Are you happy Hells Kitchen got renewed? Follow me on Twitter for more scoop on shows getting renewed like Hells Kitchen, or check the complete and updatable lists of renewed shows of 2013 and cancelled shows of 2013.
Comments
comments