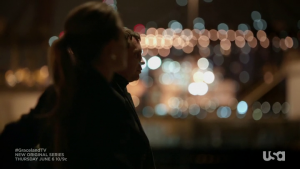 I had the chance to watch an advanced premiere of Graceland, the much talked about new show from USA.
And you can too, as Beginning today, April 29th for a limited two week period, check out USA's new provocative original series, Graceland! The pilot will be available on-demand on most carriers, including, Comcast Xfinity TV, Time Warner Cable, Charter Communications, Cox Communications, Cablevision, DirecTV, Dish, and Verizon FiOS. GRACELAND, based on true events, premieres on Thursday, June 6 at 10/9c and focuses on the lives of undercover agents from the FBI, DEA and US Customs who reside and operate under one roof.
But now, let´s do a little preview of the premiere of Graceland, and talk about the best moments from it.
Best Quotes and Moments from Graceland premiere
A beachfront property was seized in a drug raid by the US government in an undisclosed location in Southern California.
It was turned into a residence for top undercover agents of the DEA, FBI, and Customs.
The following is based upon actual events surrounding this house, unofficially known as… Graceland.
From the exact moment of the initial credits you want to know more about the show.
Speech: Inside these walls you are the best of the best
Speech: You have nothing to lose.
Speech: Whatever you think success means, I hope you stay open to the possibility that you got it all wrong, and you have absolutely no idea of what life got in store for you.
You will make mistakes, you are not perfect. You will fail, and when that day comes, I hope you have the brains, the guts, the strength, the good luck to survive.
And right when Mike gets to California… that´s as far as I´m going to tell you… so as not to give any Spoilers on the premiere of Graceland, but, you should definitely catch it.
What did you think? Will you watch Graceland on USA? You should, it´s going to be one of the best shows this upcoming summer season. Follow me on Twitter for more Graceland Scoop.
Comments
comments