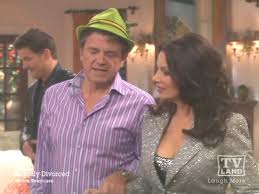 Happily Divorced is a freshman show that is showing a lot of promise, as you can see in TV Land renewing Happily Divorced.
But it´s time to talk a little more about the show:
Happily Divorced Plot
Happily Divorced" centers around Los Angeles florist Fran  as she deals with dating after finding out her realtor husband of 18 years is gay. Fran juggles her new relationships, while still living under the same roof with her ex-husband. The cast is rounded out by Fran's best friend Judi, her parents Dori and Glen and her flower delivery employee Cesar.
Happily Divorced Cast
Fran Drescher plays Fran Lovett
John Michael Higgins plays the gay ex husband    Peter
Tichina Arnold plays Fran´s best friend Judi
Valente Rodriguez plays Fran´s assitant Cesar
Robert Walden plays Fran´s father Glen
Rita Moreno plays Fran´s Mother Dori
The show was created by Fan Drescher and Peter Marc Jacobson and is a homage to their own story as a married couple who divorced after several years when the husband came out of the closet.
Happily Divorced Song
The theme song was composed by Gavin Lurssen (a mastering engineer owner of Lurssen Mastering in Hollywood), responsible among other things of O Brother, Where Art Thou Soundtrack, and Ran Pink, a LA composer from techno rock duo Mankind Liberation Front.
Happily Divorced Song Lyrics:
She was certain that he was her one and only
but their union always seemed a little forced
she got married anyway
turns out that he was gay
they're still in love
but now she's happily divorced.
What do you think about the plot, cast and song lyrics from Happily Divorced? Let me know in the comments section.
Also, remember to follow me on Twitter for more Happily Divorced scoop.
Comments
comments