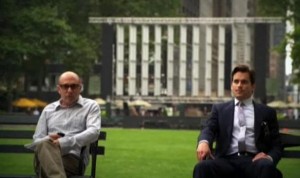 Tonight´s the night for White Collar´s third season mid-season finale, with an episode called Countdown who has Beau Bridges, Anna Chlumsky, Ross McCall and Jamie Harris guest starring.
I had the privilege of watching the season finale Countdown of White Collar ahead, so I could write a little about it.
And I have some light spoilers from White Collar third season midseason finale. Nothing big, just a couple of quotes from it and a couple of moments. Nothing after the fifteen minute mark, because trust me… you will want to watch White Collar midseason finale August 9 9/8 C on USA.
Mark my words… you will want to watch it.
White Collar third mid-season finale semi spoilers and quotes
First of all, the biggest non spoiler: The episode is a must watch
Neal and Mozzie must stay one step ahead of the the FBI while appearing to work with them in order to keep them from discovering that they possess the treasure.
The episode opens with a previosuly on sequence that shows Mozzie and Neal toasting for the big score they´ve done, and then Peter and Diana talking about the manifest.
We see Anna Chlumsky´s first appearance on the show and Peter´s suspecting face.
I know it´s a previously on scene, but Mozzie saying "You lied to me?" to Neal still gives me the chills.
Now it´s time for the actual midseason finale episode Countdown, that starts with Mozzie sitting on a bench in the park and Neal sneaking upon him to talk to Moz, since he´s angry and wouldn´t talk to him; Neal had to semi con him.
Neal: You have every right to be angry at me. I lied to you.
Moz: Why?
Neal: I have a life here
Moz: We have a dream
Neal: Well, dreams change
Moz: Come on Neal, this was the one… a perfect last score.
Moz: But that leaves a question… do you wanna stay?
Neal answers: (Hey, of course I won´t tell you this! You need to see the episode… tinsy bits and teases are ok… big time spoilers are kind of no no)
Beau Bridges enters the scene at the FBI as agent Kramer, Peter´s mentor! "I´m paraphrasing here, but I don´t think Socrates would mind"
Jones: A Degas!
Peter: Good eye Hones
Agent Kramer: What do you think, Neal?
Neal: Me? I think recovering this masterpiece would be incredible, sir.
Peter: Me too. So we are gonna find it.
Aaaand that´s about as much as I can tell you in the form of mini spoilers. For the rest, you´ll need to watch the finale of White Collar, and once again, believe me… you will want to.
Update: Now that the episode has aired we can actually do the full recap of White Collar midseason finale:
Neal: Take Peter add years of experience and less inclination to cut as slack
Neal: He know enough of our Degas to scare the hell out of me
Agent Kramer: You are awful close to the person you suspect took the Degas
Agent Kramer: When this happens you are not putting cuffs on a criminal. You are taking down a friend. Peter, you need to protect yourself.
Agent Kramer: If Neal is a suspect, you need to treat him like that.
Neal: Must be nice having someone trust you
Peter: Never gave him a reason not to
Rusty: This is genetics… that shirt is a choice
Agent Kramer: Your boy is very helpful for our lead suspect
Peter: So it seems.
Melissa Matthews: You can call me Melissa after last time
Neal: Can I trust you?
Melissa: What´s wrong
Neal: Melissa, can I trust you?
Melissa: Try me
Neal: What I´m about to say… damned, you are not authorized
Melissa: Authorized for what?
Neal: Doesn´t matter, there´s no time. There´s a mole in the White Collar division here in New York.
Melissa: Chris…
Neal: Call me Neal.
Neal: I owe you another Martini.
Neal: That´s Agent Kramer talking. He´s the devil on your shoulder.
Neal: Prove it
Peter: Be careful what you wish for
Neal: Then good luck
Neal: We have a problem
Mozzie: We maybe have to copyright that phrase
Elizabeth: Neal really did it, didn´t he?
Peter: What got you so convinced?
Elizabeth: You. The last time you obsessed that much, you caught him
Mozzie: We have a problem
Neal: You are right. I shoould copyright that phrase
Mozzie: You have a plan…
Mozzie: Oh, I´m sorry, I thought you had a good plan
Agent Kramer: That doesn´t mean he´s not planning something
Peter: Oh, he is.
Neal: Oh come on Peter you cannot lock me in here
Neal: See you on the other side, Moz
Peter: So it´s a forgery?
Peter: I thought for sure it was out there.
Agent Kramer: The hardest thing to do is admit you´re wrong.
Agent Kramer: I can tell he wants to be here.
Melissa: You really are Neal Caffrey
Neal: Welcome to White Collar
Mozzie: It´s time for you to make a choice. Do you want to leave or not?
Neal: No. There are things about this life that I´m not ready to give up.
Mozzie: I´ll see you around Neal.
Peter: He took my wife
Is Moz leaving White Collar? My bet is again no. I already bet he was not dying last finale.
But what happened to Elizabeth on White Collar season finale? Is she dying? Let´s theorize in the comments section.
What did you think about these spoilers and quotes from midseason finale of White Collar Countdown? Will you watch tonight´s White Collar? Let me know in the comments section.
Also, remember to follow me on Twitter for more White Collar spoilers and quotes.
Comments
comments