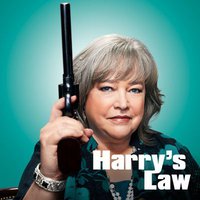 Harry´s Law is one of the new NBC comedies that will premiere on MidSeason. Harry´s Law premieres January 17th on NBC.
Emmy Award-winning writer/producer David E. Kelley ("Boston Legal," "The Practice," "Ally McBeal") weaves his rich storytelling into a new legal dramedy starring Academy Award winner Kathy Bates in the title role – about how people can embrace the unexpected and other curveballs that life can throw at them.
Harriet "Harry" Korn (Kathy Bates, "Misery," "About Schmidt") doesn't believe things happen for a reason, but she discovers that they sometimes do. A curmudgeonly ex-patent lawyer, Harry is abruptly fired from her blue chip law firm, forcing her to search for a fresh start. She finds it when her world unexpectedly collides, literally, with Malcolm Davies (Aml Ameen, "Kidulthood"), a kind-hearted college student who desperately needs Harry's help with his pending court case, and he subsequently goes to work for her.
Harry soon finds her balance as well as new offices in an abandoned shoe store just as legal hotshot Adam Branch (Nate Corddry, "The United States of Tara," "Studio 60 on the Sunset Strip") accidentally hits her while driving. Inspired by Harry's no-nonsense understanding of the law, Adam decides to take leave of his shiny corporate firm to go and work with her. Harry, Adam and Malcolm – unlikely but kindred spirits – along with the help of Harry's shoe-savant assistant, Jenna (Brittany Snow, "Hairspray," "American Dreams"), are now ready for whatever walks in through the doors of their unique establishment – Harriet's Law and Fine Shoes.
In this behind the scenes videoThe first extended look at Harry's Law is here. Cast interviews, scenes from the premiere and more are all included in this nearly-3 minute video.
Watch Perfect Couples Preview and Behind the Scenes Videos
Sneak Peek Video at Harry's Law
The cast of Harry's Law talk about the appeal of the show.
You can also follow Harry´s Law on Twitter, or Like it on Facebook.
Will you watch Harry´s Law premiere January 17th on NBC? Let me know in the comments section. And, remember to follow me on Twitter for more Harry´s Law scoop and spoilers.
Comments
comments