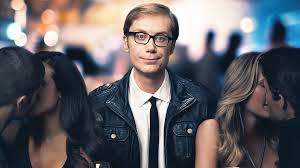 HBO is a juggernaut in terms of dramas, such as Game of Thrones and even a solid performer like True Blood for several seasons; and they are doing more than ok in the comedy field with the likes of Veep and Girls. But not every newcomer shares the good fate of such shows, and in this case, one of the 2013 additions to the roster is going out, as HBO decided to cancel Hello Ladies, in not moving forward with a second season, but as this network has us used to, it is giving the show a chance to wrap the story up with a special, a la Life´s Too Short.
HELLO LADIES tells the story of Stuart Pritchard and his group of friends as they try to get some attention from the ladies. The show was created by Stephen Merchant, Gene Stupnitsky and Lee Eisenberg; executive producers, Stephen Merchant, Gene Stupnitsky and Lee Eisenberg; co-executive producers, Danny Chun and Ron Weiner; producer, Dan Kaplow.
What do you think about this? Are you bummed Hello Ladies got cancelled by HBO? Will you watch the wrap up special? Or is it just a show that will go unnoticed by you?
Follow me on Twitter for more scoop.
Comments
comments