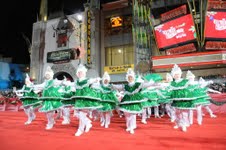 Christmas is coming soon and one of the perks of it is checking the Hollywood Christmas Parade. And folks on Hallmark are bringing the parade to us.
The Hollywood Christmas Parade, a Southern California tradition for 80 years, will be telecast on Hallmark Channel, Monday, December 12 @ 6 p.m.-8 p.m. ET/PT, 5C.  This year's Grand Marshal is Grammy nominated recording artist and actor Marie Osmond (Donny & Marie).  Ms. Osmond will be joined by actors and celebrities including Lea Thompson, Vivica A. Fox, Ted McGinley, Louis Gossett, Jr., La Toya Jackson, Rin Tin Tin, soap stars Natalie Hall and Greg Vaughan, World Champion Los Angeles Lakers forward Ron Artest (MetaWorldPeace), popular singer/songwriter Richard Marx, Los Angeles Mayor Antonio Villaraigosa, award-winning bands from across the nation, equestrians – including the world-famous Wells Fargo stagecoach, and perennial favorite of the young at heart – Santa Claus, with many more performers to be announced later.  The Hollywood Christmas Parade benefits Marine Toys for Tots.  Hallmark Channel is the official cable television partner of the charity and has previously announced that in addition to its corporate sponsorship, all of the network's VIP events will go to benefit one of the nation's most venerable children's charities.  The goal of Marine Toys for Tots is that through a new toy, a child may find hope in the season, and in life.  Hallmark Channel's COUNTDOWN TO CHRISTMAS campaign is about celebrating the timeless traditions of the season.  Giving to others is the tradition celebrated in the parade and on Hallmark Channel.
Will you watch The Hollywood Christmas Parade on Hallmark? Let me know.
Also, remember to follow me on Twitter for more Hallmark scoop.
Comments
comments