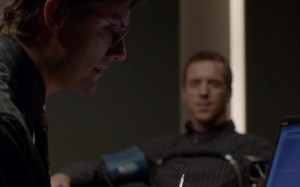 Ok, another great episode of Homeland called The Good Soldier, in which The CIA is reeling after losing Hamid and Faisel, key players in Abu Nazir's plot against America. Fearing a double agent in his midst, The Director of Counterintelligence orders polygraph tests on everyone who came in contact with Hamid – including Sgt. Brody. Carrie believes Brody's subconscious will betray the secret he's so far been able to keep: that he slipped his former captor a razor blade and orchestrated his death to keep him quiet. Meanwhile, tensions between Brody and Mike reach a boiling point at the memorial for Sgt. Tom Walker, when the conversation turns to what happened on the home front during those eight lonely years of Brody's captivity. And would-be terrorists Aileen and Faisel discover that the CIA isn't the only force hunting them down.
But who passed the blade to Hamid? My guess is that Saul passed the blade to Hamid, and he tricked the poligraph system somehow, making it impossible to get him lying about passing the blade, and therefore, also making Nick Brody cheating the poligraph on the being faithfull to his wife question, but being true that he did not pass the blade to Hamid.
So, who passed Hamid the blade on Homeland? What´s your theory? Mine is that Saul passed the blade to  Hamid, and that Nick Brody did not pass Hamid the blade.
I´ll wait for you on the comments to spill your own theories.
Also, remember to follow me on Twitter for more Homeland spoilers and scoop.
Update: Can you beat a polygraph?
Fans of the hit SHOWTIME series HOMELAND who watched this Sunday's episode, were treated to a storyline where most of the series' main characters were interrogated and subjected to polygraph tests. Shockingly, Sgt. Nicholas Brody (portrayed by Golden Globe® nominee Damian Lewis) manages to beat his polygraph despite lying on the exam. Viewers around the country can now test their curiosity, as SHOWTIME will offer polygraph exams in-person and online to consumers around the country, to see if they too can beat a lie detector.
While not having the training and fortitude that Sgt. Brody used to skew his results, consumers will have the opportunity to "beat the test" in person or online. HOMELAND polygraph vans will travel to cities on the East and West Coast of the United States where professional polygraphists will test consumers' answers. Fans will be asked a series of questions that should result as a "truth," as well as three additional questions that they will need to respond to "truthfully" despite its pre-determined inaccuracy. Specific locations and dates for van stops around the country in New York, Philadelphia, Washington, D.C., San Francisco and Los Angeles are listed below.
Viewers nationwide will also have the chance to test their skills online by visiting this link. The SHOWTIME simulated polygraph app will use voice stress analysis to evaluate the participant's answers. Users simply need a webcam and a Facebook account to participate and use the app.
HOMELAND is a one-hour drama series that tells the story of Carrie Mathison (Claire Danes), a CIA officer battling her own demons, who becomes convinced that the intelligence that led to the rescue of Nicholas Brody (Damian Lewis), a U.S. soldier who had been missing and presumed dead for eight years, was a setup and may be connected to an Al Qaeda plot to be carried out on American soil.  The series also stars Mandy Patinkin, Morena Baccarin, David Harewood, Diego Klattenhoff, Morgan Saylor and Jackson Pace. HOMELAND is based on the original Israeli series "Prisoners of War," by Gideon Raff. Howard Gordon, Alex Gansa, Avi Nir, Ran Telem, Gideon Raff and Michael Cuesta serve as executive producers. The series is produced by FOX 21.
Van Locations and Dates:
New York:
o   Monday, November 7: Bryant Park SE Corner of West 43rd Street and Sixth Ave (11 a.m. – 4 p.m.)
o   Tuesday, November 8: Flatiron SE Corner of East 23rd Street and Fifth Avenue (11 a.m. – 4 p.m.)
o   Wednesday, November 9: SoHo SE Corner of Prince Street & Broadway (11 a.m. – 4 p.m.)
Philadelphia:
o   Thursday, November 10: Reading Terminal SE Corner of N. 12th St. and Arch St. (11 a.m. – 4 p.m.)
o   Friday, November 1:  Gallery Place SW corner of F St NW and 6th St NW (11 a.m. – 4 p.m.)
San Francisco:
o   Monday, November 7: Ghirardelli Square, West Plaza (1 p.m. – 6 p.m.)
o   Tuesday, November 8: Fisherman's Wharf, the intersection of Beach Street & the Embarcadero/Powell (12 p.m. – 5 p.m.)
Los Angeles:
o   Wednesday, November 9:  The Grove, Gilmore Lane (1 p.m. – 6 p.m.)
o   Thursday, November 10:  The Americana at Brand, on American Way (1 p.m. – 6 p.m.)
o   Friday, November 11:  Hollywood & Highland, Hollywood Blvd in front of Kodak Arch (11 a.m.)
Comments
comments