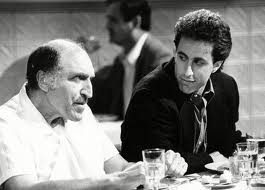 Len Lesser, the veteran character actor best known for his scene-stealing role as Uncle Leo on "Seinfeld," died Wednesday. He was 88.
According to the official statement, Len Lesser died from cancer related pneumonia.
His daughter, Michele, in the statement said "Heaven got a great comedian and actor today. The outpouring of sympathy we've already received has been amazing and is so greatly appreciated. Thank you to all the people who helped make my father's last journey special and surrounded with love."
He is survived by his daughter, Michele; son, David; daughter-in-law, Julie; and grandchildren, Jonathan, Kayla, and Mayah.
Len Lesser, Seinfeld´s Uncle Leo was also known for roles on Get Smart, The Munsters, The Rockford Files, ER, Everybody Loves Raymond and a recent appearance on Castle.
Uncle Leo from Seinfeld will be always remembered as one of the funniest background role characters of the evergreen hit sitcom.
RIP Uncle Leo, RIP Len Lesser. May your soul rest in peace.
Our best thougths to his family and friends.
What is the thing you most remember about Len Lesser´s Uncleo Leo character on Seinfeld? Let me know in the comments section.
Also, you can leave your condolences for the online Seinfeld family.
Comments
comments