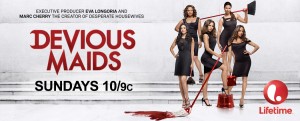 In what should surprise no one, Lifetime has decided to renew Devious Maids for a second season of the Marc Cherry created vehicle starring Ana Ortiz, Dania Ramírez, Roselyn Sánchez, Edy Ganem and Judy Reyes. Second season renewal order for Devious Maids is for thirteen new episodes that will air next year.
In Devious Maids, murder and mayhem collide in the mansions of Beverly Hills' wealthiest and most powerful families.  Class warfare has never been as fun and dirty as it is in the tony enclave where the staff is as clever, witty, outrageous and downright devilish as their employers.  Whoever holds the dirt holds the power, and before the season is over, illicit affairs will be revealed and deep dark secrets exposed as we learn the sordid details behind a shocking murder of a beloved housemaid. The show debuted very solid and kept growing in the ratings making it the fastest growing show on the cabler. So, it was a given that it would get renewed.
What do you think? Are you happy Devious Maids got renewed? Let me know in the comments section. Follow me on Twitter for more scoop or check the complete and updatable lists of renewed shows of 2013 and cancelled shows of 2013.
Comments
comments