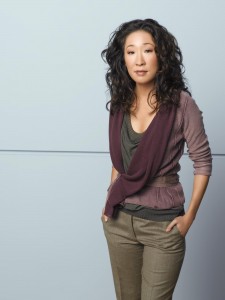 As The Hollywood Reporter broke today, Sandra Oh is leaving Grey´s Anatomy after ten years in the show and five Emmy Nominations playing Christina Yang.
In the official statement, Sandra Oh explained her departure from Grey´s Anatomy saying "It's been a great privilege to play the character of Cristina Yang on GA and I am both sad and excited to see where this, her final season will take her… It was an emotional and deeply creative decision for me and I feel fully supported by Shonda and the writers. It's so rare in an actor's life to be able to explore and grow a character so fully, so completely. I am profoundly grateful to everyone at GA for the opportunity".
In the meantime, Shonda Rhimes, show´s creator has only good things to say about Oh, as she stated: "One of the best days of my life as a writer happened the day Sandra Oh walked in my door to audition and forever changed the course of Grey's Anatomy with her brilliant, nuanced portrayal of Cristina Yang."
So now, another of the show´s original castmembers is leaving, with only Ellen Pompeo, Patrick Dempsey, Justin Chambers, Chandra Wilson and James Pickens Jr under contract for next season, but with new negotiations to arise if needed.
ABC plans to keep Grey´s Anatomy on air even though Christina Yang is leaving. The show already managed to survive several big name departures, but can it hold the biggest one yet? Are Pompeo and Dempsey next? So far, Grey´s Anatomy is going to run for at least one more season, and then time will tell.
What do you think? Do you want GA to continue beyond Sandra Oh´s departure? Let me know your thoughts. Is Christina Yang going to die on Grey´s Anatomy as the fate of many characters on the show when leaving? Also, follow me on Twitter for more scoop.
Comments
comments