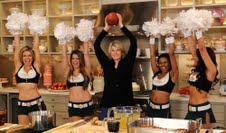 Will you watch Martha Stewart Show Superbowl Edition?
On today's football-friendly "Game Day" edition of  THE MARTHA STEWART SHOW (Hallmark Channel, 10 AM ET/9 AM C – same day encore airing, 2 PM ET/next day airing, 1 PM ET) Martha dedicated her show to all the guys getting ready for Super Bowl Sunday. Kicking it off right, with the New York JETS Flight Crew Cheerleaders, Martha chatted with the four ladies about their recent loss. There's always next year!
Take an inside look at Cowboys Stadium, where this year's biggest game will take place, as Jerry Jones gives Martha her very own VIP tour!
Also, Martha teaches two members of her man-only audience, Michael and Kelsey, how to prepare the perfect Super Bowl Snack, Taco-Stuffed Potatoes. Things got a little "interesting" when Martha asked if the guys had tattoos. Michael said "I'll show you mine, if you show me yours." Martha declined the offer but she had it coming when she "asked for it!"
Martha Stewart´s Recipe for: TACO STUFFED POTATOES
Credit: The Martha Stewart Show
Ingredients for the Taco Stuffed Potatoes
Serves 8 to 10
8 small russet potatoes (about 3 pounds), washed and dried
1/3 cup sour cream, plus more for serving
2 tablespoons unsalted butter, melted
1/4 cup milk
Coarse salt and freshly ground pepper
2 tablespoons olive oil
1 medium onion, finely chopped
1 small jalapeno, finely chopped
2/3 pound ground beef
2 1/2 teaspoons chili powder
Pinch cayenne pepper
1/4 teaspoon cumin
2 medium tomatoes, chopped
2 1/2 cups shredded sharp white cheddar cheese
2 tablespoons finely chopped chives, plus more for serving
Chopped cooked bacon, for serving
Finely chopped pickled jalapenos, for serving
Cilantro leaves, for serving
Directions on how to make Taco Stuffed Potatoes
1.     Preheat oven to 400 degrees. Line a baking sheet with parchment paper.
2.     Place potatoes on prepared baking sheet. Transfer to oven and roast until easily pierced with the tip of a sharp knife, 55 to 60 minutes. Remove from oven and let cool slightly, about 10 minutes.
3.     Halve potatoes lengthwise. Using a small spoon, gently scoop out all but 1/2 inch potato into a medium bowl; set skins aside. Add sour cream, butter, and milk to bowl with potato; season with salt and pepper. Using a potato masher, mash until smooth and combined. Set aside.
4.     Heat olive oil in a large skillet over medium heat. Add onions and jalapenos and cook, stirring, until soft and translucent, 3 to 5 minutes. Add beef and stir to combine. Continue to cook, stirring often, until beef is cooked through, about 10 minutes. Stir in chile powder, cayenne, cumin, 2 teaspoons salt, and 1 chopped tomato. Remove from heat and fold beef mixture into mashed potato mixture along with 1 cup cheese and chives; season with salt and pepper.
5.     Spoon potato and meat mixture into hollowed-out potato skins and place on a parchment paper-lined baking sheet. Sprinkle potato skins with remaining 1 cup cheese and transfer to oven; bake until cheese is melted and potatoes are hot, about 20 minutes. Serve topped with sour cream, remaining chopped tomato, chives, bacon, pickled jalapenos, and cilantro.
What did you think about Superbowl edition on Martha Stewart Show? How about Martha Stewart´s Taco Stuffed Potatoes recipe? Let me know in the comments section.
Also, remember to follow me on Twitter for more Martha Stewart Scoop
Comments
comments