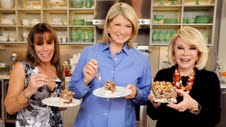 Everybody talks about Charlie Sheen, even though Two and a Half Men fired its star,and even in Martha Stewart Show, people talk about it. You can even work for Charlie Sheen too.
Melissa Rivers was alongside her mom comedienne Joan Rivers on Martha Stewart show, where she left us a great quote stating she´s trying to produce Charlie Sheen´s Reality Show.
Melissa Rivers Quote on how she´d like to produce Charlie Sheen´s Reality Show:
Audience Member:  Do you think Charlie Sheen should get his own reality show?
MR: Absolutely, and  I think I should produce it. Trust me, I am already making phone calls to mutual friends. You know business is business. And winning! You know?
MS: What's with the machete and the tiger blood on top of the building? That's a little scary.
MR: Dramatic effect that's all I'm going to say. Are we talking about him? Yes. Do I think its good TV watching? Yes. Do I think I should own the rights to it? Absolutely.
MS: You have raised a business woman.
JR: I know. Thank God. But how sad is it that he is being allowed to continue? I mean what a wonderful message to send to your children. You know? Do this. Act like an ass and get two million dollars. I mean it's just…
MR: But if you could act like an ass and get paid for it, wouldn't you?
MS: No!
JR: To a point.
MS: No you would not.
JR: Not the drugs and the hookers. When have I ever brought a hooker home? Never.
MR: Never on the property.
MS: And two of them!
JR: I never had two hookers.
MS: They're the cutest girls. They're so cute and they are having the greatest time.
What do you think about Melissa Rivers producing Charlie Sheen´s reality show? Would you watch?
Let me know in the comments section. Also remember to follow me on Twitter for more Charlie Sheen reality show scoop.
Comments
comments