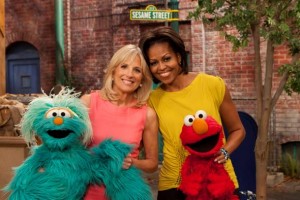 First and Second Ladies Michelle Obama and Dr Jill Biden were visiting Sesame Street Monday April 18, as part of the White House's "Joining  Forces" Initiative and Sesame's military families project, to tape Public Service Announcements asking all Americans to support our military families.
In this Photo, taken bu Richard Termine for Sesame Workshop we can see both president and vice president´s wives joining The Muppets for these Service Public Announcements.
I wonder if they will air on Memorial Day or when.
Jessica Simpson, Nick Cannon and Martha Stewart aer also joining forces with Michelle Obama and Dr Jill Biden in this campaign.
Obama and Biden are scheduled to make stops in North Carolina, Texas, Colorado, and Ohio.
"This campaign is about all of us," said Obama at a Tuesday White House ceremony, "all of us joining together, as Americans, to give back to the extraordinary military families who serve and sacrifice so much, every day, so that we can live in freedom in security."
What did you think about the photo of Michelle Obama and Jill Biden on Sesame Street?
Let me know in the comments section.
Also, remember to follow me on Twitter for more Sesame Street scoop.
Comments
comments