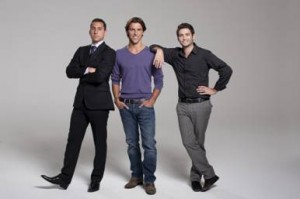 The fifth season of "Million Dollar Listing Los Angeles," premiering Wednesday, June 6th at 9 p.m. ET/PT. This season puts the spotlight on Josh Altman, Josh Flagg and Madison Hildebrand, three aggressive real estate magnates selling the high life at high prices in the most exclusive neighborhoods in town.
With clients ranging from a professional football player to a jet-setting financier, Josh Altman puts it all on the line to close a series of extremely sweet deals, while others tragically fall apart. As Josh's romance with Madison's assistant Heather heats up so do tensions between Madison and Josh. Madison goes head-to-head with several hard-nosed clients, including his own father, but ultimately he is heartbroken when he suffers a devastating loss. While representing some of his most spectacular properties ever, Josh Flagg braves a stormy market and struggles to stay on top. He becomes deeply invested in finding a home for a close family friend and throws an over-the-top broker's open that leaves the real estate community buzzing. After four years together, Josh and his boyfriend Colton are left to face some hard decisions about their future.
Who are the agents on Million Dollar Listings Los Angeles Season Five?
Josh Altman:
Josh Altman is one of the most successful real estate agents in the Beverly Hills and Hollywood Hills luxury housing market. Josh's clientele consists mostly of entertainers, athletes and high net worth individuals from all over the world.  Josh consistently offers his clients the white glove/VIP service. Over the past year, Josh has sold over $38,000,000 and has another $50,000,000 in current listings. His latest sale in Beverly Park for $16,500,000 is the sixth highest sale in LA County in 2010. Altman has flipped over eight homes with a perfect record of success and also ran a real estate finance company for two years before taking the next step to quickly becoming one of the top agents in the business at Hilton and Hyland. Despite Josh's busy schedule, he still finds time to give back to his community.  Altman is very passionate about volunteering his time and money to support numerous charities. In his free time he can also be found hiking with his two dogs he rescued, Diego and Lucky, golfing, or skiing.
Josh Flagg:
Josh Flagg began working in high-end residential real estate immediately after graduating from Beverly Hills High in 2004. Within the first four years of his career, Flagg participated in several record sales of up to $25,000,000, including the highest sale in the history of Brentwood Park and the highest sales on the exclusive Roxbury, Foothill and Monovale Drives, making him one of Los Angeles' hottest agents. He currently works for Keller Williams Westside. After finishing his first book about his famous grandmother, Edith Flagg (the woman who brought Polyester to the United States), Flagg decided to pen his own memoirs and write an inspirational how-to book for making it in the dog-eat-dog world of real estate.
Madison Hildebrand:
Madison Hildebrand is one of Malibu's most sought after celebrity real estate agents. After graduating from Pepperdine University, he began pursuing his real estate license and earned a mentorship with one of the top-producing agents in the nation.  He sold his first home for $2.8 million dollars to a celebrity and is continuing to sell in all ranges, even in excess of $20 million dollars. In spite of five wildly successful years as one of the top producing agents, Malibu's most wanted real estate mogul has not been immune to the failing economy. As property values plummeted, Hildebrand struggled to keep his exclusive clientele happy. But even in the tough market, this Malibu mogul prevailed, as he is still able to ink deals for high-end sales and leases from Malibu to Beverly Hills. Besides selling real estate, Madison has also become the President of AgentControl.com, an operating system that is cost efficient and helps agents manage their business and reach their goals. He has also penned the novel, "Activate YOUR Passion, Create YOUR Career."  When Hildebrand finds time to play, he focuses on his much talked about love life, exploring his newfound sexuality with some surprising twists and turns.
What is Season Five About? Episodes Descriptions
Episode 501 – "Ballooning Assets" (Wednesday, June 6 at 9p.m. ET/PT)
In the season premiere, Josh Altman attempts to sell a multi-million dollar home owned by an eccentric inventor who wants to fly.  Meanwhile over in Malibu, Madison helps a colleague sell her ill-tempered ex-husband's stunning lakeside home. Flying high, Josh Flagg meets a client at "rooftop yoga" and nabs a listing for a prized Beverly Hills estate.
Episode 502 – "Betrayal Between Brokers" (Wednesday, June 13 at 9p.m. ET/PT)
As Heather's relationship with Josh Altman heats up, it begins to interfere with her work.  Madison accuses Heather of sabotaging his business and takes swift action against her. With his heart on this sleeve and tempers flaring, Josh Altman vows to make Madison pay for messing with his girl. In Beverly Hills, a young socialite and rising fashion star turns to Josh Flagg to help her find a high-end hideout.
Episode 503 – "I Got the Listing and I Got the Girl" (Wednesday, June 20 at 9p.m. ET/PT)
With a thorn in his side, Madison decides to confront Heather and Josh Altman by crashing his brokers open at a plush Beverly Hills penthouse. In tranquil waters, Josh Flagg's Grandmother Edith bonds with his client, a socialite.
Episode 504 – "Lets (Not) Make a Deal" (Wednesday, June 27 at 9p.m. ET/PT)
With his work and personal life at a crossroads, Josh Altman's temper runs short causing him to lose a four-million-dollar listing.  Eager to win his father's approval, Madison comes through with a brilliant idea to sell his family's home in Park City, Utah.  Meanwhile, frustration runs deep for Josh Flagg when a major client threatens to back out of a deal.
Will you watch Million Dollar Listings Los Angeles season five on Bravo? Let me know in the comments section. Also, remember to follow me on Twitter for more Million Dollar Listings Los Angeles scoop.
Comments
comments