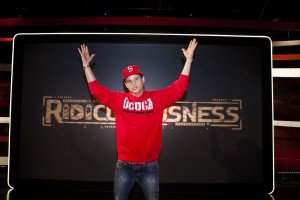 There are several shows like this one on TV, including Tosh.0, Shaq´s Upload and several others, when you only count shows cracking up about online viral videos; if you take the full scope of shows of short videos, bloopers and similar, there are tons and tons, and only behind shows like The Soup with Joel McHale and Animal Planet´s Funniest Videos, this is probably the funniest; as Rob Dyrdek is funny, and is well paired with Steelo Brim and Channel West Coast in an energetic unambitious little show that fullfills its calling: Making us laugh. So now, MTV renews Ridiculousness for season four set to air next year.
MTV announced today the pick-up of a fourth season of Rob Dyrdek's hit series' "Ridiculousness" with 22 all-new episodes. "Ridiculousness" hosted by Dyrdek is a hit viral video series that breaks down the internet's hilarious, most bizarre and extreme videos, with co-hosts Chanel West Coast and Sterling "Steelo" Brim. Season four will be the most ridiculous season ever with guest appearances by some of the biggest names in the industry and all-new hilarious and over-the-top video categories.
"Ridiculousness" season three to date is averaging a 1.6 P12-34 rating and attracts an average 2 million total viewers each week (L+7). The series is the #1 original cable series in its time slot with P12-34. But that´s not all, Fantasy Factory is also renewed for one more run.
What do you think? Are you happy Ridiculousness got renewed? Let me know in the comments section. Follow me on Twitter for more scoop or check the complete and updatable lists of renewed shows of 2013 and cancelled shows of 2013.
Comments
comments