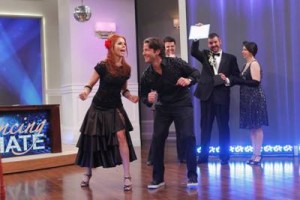 We already told you that February would bring a lot of good stuff from Nate Berkus Show. Well, this time host Nate Berkus busts a move with Dancing with the Stars' Anna Trebunskaya on the February 9th edition of the nationally syndicated, "The Nate Berkus Show." On the episode, Scott and Tracy of Appleton Wisconsin get a first dance "do-over" after private lessons with Trebunskaya and fellow dancer, Jon Roberts. The couple never had a first dance on their wedding day three years ago as Scott had 104 fever.
Watch Nate Berkus dancing with Anna Trebunskaya from Dancing with The Stars video
Who is Anna Trebunskaya?
For those living in a thermus, Anna Trebunskaya is a Russian-American professional ballroom and Latin dancer, known for her appearances on Dancing with the Stars (in the 2010 season she was partnered with Evan Lysacek). She now lives in Los Angeles, California and dances in the International Latin style.
In Season 2, she partnered football star Jerry Rice, and together they came in 2nd to pop star Drew Lachey and Cheryl Burke. Trebunskaya and her husband Jonathan Roberts also performed together on results shows in its first three seasons. Trebunskaya returned to DBold textDancing with the Stars for its fifth season and her celebrity partner was model Albert Reed. They were the second couple eliminated from the competition. Trebunskaya competed on Season 6 of Dancing with the Stars and her celebrity partner was actor Steve Guttenberg. She and Guttenberg were also the second couple to be eliminated. In Season 9, her partner was UFC fighter Chuck Liddell. She and Liddell were the sixth couple to be eliminated. In Season 10, she competed with US Olympic Figure Skating Gold Medalist Evan Lysacek. They finished in 2nd place to pop star Nicole Scherzinger and Derek Hough. In Season 11, Trebunskaya partnered football quarterback Kurt Warner. They placed 5th overall and were the 8th couple eliminated.
What did you think of Nate Berkus dancing video? Let me know your thoughts in the comments section.
Also, remember to follow me on Twitter for more Nate Berkus show scoop.
Comments
comments