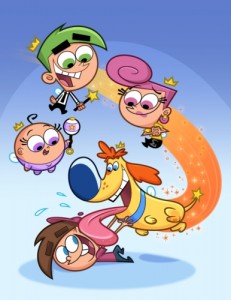 In another long running show that is coming back, and is always certain to be coming back so much so that we always forget to announce that is being renewed up until premiere time. Nickelodeon renewed The Fairly OddParents for season nine, and the show is starting its run May 4th 9:30 AM. The Fairly OddParents follows the magical adventures of 10-year-old Timmy Turner and his well-meaning fairy godparents who grant him wishes.  After 12 years on the air, The Fairly OddParents continues to rank among the network's top programs and reached more than 20 million K2-11 in 1Q13. The Fairly OddParents will air regularly on Saturdays at 9:30 a.m. (ET/PT) on Nickelodeon.
"The Fairly OddParents exemplifies what has made Nickelodeon a leader in animation – innovative, amazingly funny, creator-driven content," said Russell Hicks, President of Content Development and Production. "Kids have fallen in love with the magical world Butch Hartman has created and we are delighted to serve up a new season filled with fun and entertaining adventures for our audience."
The Fairly OddParents follows the comedic adventures of Timmy Turner, a 10-year-old boy who overcomes typical kid obstacles with the help of his wand-wielding wish-granting fairy godparents, Cosmo and Wanda. These wishes fix problems that include everything from an aggravating babysitter to difficult homework assignments. With their eagerness to help Timmy, Cosmo and Wanda always succeed in messing things up.
What do you think about this? Are you happy The Chica Show got renewed? Follow me on Twitter for more scoop on shows getting renewed like The Chica Show, or check the complete and updatable lists of renewed shows of 2013 and cancelled shows of 2013.
And remember to watch it starting May 4th, Saturdays 9 AM on Nickelodeon.
Comments
comments