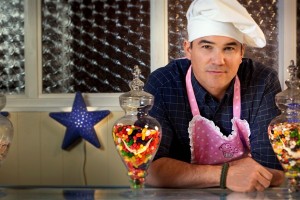 He was Superman, she was the original Buffy. You know the movie is a great walk down memory lane for us geeks, right? Well, now it´s a romantic comedy from the number one family oriented TV films company, Hallmark Channel: Operation Cupcake to premiere June 17th.
Dean Cain ("Lois and Clark: The New Adventures of Superman," "The Case for Christmas") stars with Kristy Swanson ("Buffy, The Vampire´s Slayer", "A Christmas Wish") as a part-time Army dad who attempts to become a full-time father in "Operation Cupcake," a Hallmark Channel Original Movie World Premiere Sunday, June 17 (8p.m. ET/PT, 7C).  Cain plays an army officer on leave who finds family life isn't what he remembered when he begins to help his wife, played by Swanson, run a cupcake bakery.
When Army Colonel Griff Carson (Cain) returns home from Germany on a two-month leave, he considers retiring if he doesn't get promoted to General.  Being away on deployment has been hard on Griff, separating him from his wife Janet (Swanson) and two teenagers, Kim (Galadriel Stineman, "Betrayed at 17") and Ollie (Alec Gray, "True Blood").  With his kids growing up and his wife busy opening a second bakeshop with a slimy business partner, Griff suddenly feels he no longer fits into his own family.  Hoping to give him a sense of duty, Janet assigns him to help run her quaint cupcake shop.  At first reluctant, Griff starts to take a military approach to his new job, never expecting it to backfire.  Soon the bakery is a war zone, and one final screw-up almost sends the place up in smoke.  Frustrated, Janet threatens to cut him out of their lives for good if he can't adjust to civilian family life.  Refusing to give up, Griff is determined to prove to his family he's ready to be a full-time father, or else face the lonely life of a solitary military man.
"Operation Cupcake," is an MNG Films Ireland Production in association with Larry Levinson Productions.  Larry Levinson is the executive producer.  Randy Pope and Amanda Phillips are co-executive producers.  James Wilberger is the producer.  Bradford May directed from a script by Neal Dobrofsky and Tippi Dobrofsky.
What do you think? Will you watch Operation Cupcake on Hallmark Channel? Let me know in the comments section. Also, remember to follow me on Twitter for more Hallmark Channel scoop.
Comments
comments