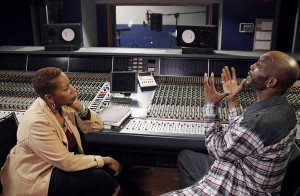 Oprah Winfrey Network is upgrading its bet on Saturday Night Originals, as they are making callbacks to all its shows, renewing Iyanla: Fix My Life for six more episodes set to air starting July 20th.
Iyanla Vanzant, accomplished author, inspirational speaker, talk show host and living testament to the value in life's valleys and the power of acting on faith; goes behind closed doors and deep inside the most private parts of people's lives for emotional, riveting conversations.  Season two features powerful episodes with multi-platinum rapper and actor DMX and former "Real Housewives of Atlanta" star Sheree Whitfield.  In the season premiere, Iyanla travels to DMX's hometown of Yonkers, New York.  Things go awry as DMX's emotions run high and his temper takes over.  In the second episode, Iyanla works with reality star Sheree Whitfield on her relationship with her ex-husband, former NFL star Bob Whitfield.  Iyanla sits down with the couple to talk about the role of co-parenting in spite of their contentious divorce.  Secrets are revealed, truths are uncovered and emotions run high as Sheree and Bob reveal how they really feel about each other.  "Iyanla Fix My Life" is produced by Harpo Studios and executive produced by Jill Van Lokeren, Jon Sinclair and Terry Goulder.
What do you think? Are you happy Iyanla: Fix My Life got renewed? Follow me on Twitter for more scoop on shows getting renewed like Iyanla: Fix My Life, or check the complete and updatable lists of renewed shows of 2013 and cancelled shows of 2013.
Comments
comments