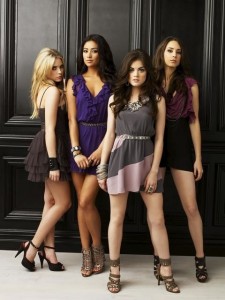 Pretty Little Liars is a show that works very well within its demo, and well, let´s face it, with me too.
And now, ABC Family's Pretty Little Liars has joined forces with the emerging entertainment check-in and social recommendation platform, Get Glue, to recognize and reward loyal fans of the show.  Beginning today, fans can log into GetGlue.com to earn four different character stickers that will unlock a fifth "secret" sticker – we're sure it will be fun to see which of your readers unlocks this sticker first!
Additionally, fans will be able to earn special holiday stickers on all of the holidays between now and the show's return on January 3, 2011 at 8/7c.  These limited edition stickers will only be available on each individual holiday (Halloween, Thanksgiving, Christmas, and New Year's Day), which increases the exclusivity for fans.
Pretty Little Liars left us with a big question mark when it ended its first half season, wondering if Hannah was killed on PLL, and wanting to know what happened after the hit and run.
What is Pretty Little Liars About?
The smash hit ABC Family original series Pretty Little Liars follows four estranged best friends who are reunited one year after their best friend Alison, the queen bee of the group, goes missing. Soon they start to receive mysterious messages from an anonymous "A" who knows all their secrets. The series returns to ABC Family with all new episodes January 3 at 8/7c on ABC Family.
Are you getting the Pretty Little Liars stickers? Let me know when you have the full set.
Also, remember to follow me on Twitter for more PLL News like these stickers.
Comments
comments