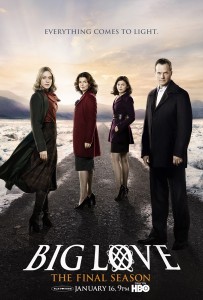 We already told you this was Big Love´s final season. And the show is planning on leaving with a bang. When the Emmy and Golden Globe nominated series Big Love premieres it fifth and final season,  Sunday, January 16 at 9pm on HBO as we learn about the fates of Bill and his three wives – Barb, Nicki and Margene.
Big Love season 5 teaser videos leave me psyched about the show, and wanting January 16th to come as fast as possible.
And as you can see in it, it surely feels like a farewell ride´s ahead of us.
Check them out and tell me if I´m wrong.
Big Love Final Season Teaser: The Office
Big Love Final Season Teaser: But Names Will Never Hurt?
Big Love Final Season Teaser: Me and My Melinda
Make sure to participate in my Big Love Contest and Giveaway for the chance to win DVD sets from the show.
Will you watch Big Love fifth and final season on HBO premiering January 16th 9 PM? Let me know your thoughts in the comments section.
Also, remember to follow me on Twitter for more Big Love Scoop and Spoilers.
And let´s give this great show the farewell it deserves.
Comments
comments