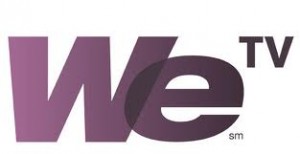 WeTV brings the series premiere of My Fair Wedding with David Tutera and Rich Bride Poor Bride.
Remember to tune in on WeTV on Sunday January 16th 9PM ET/PT
My Fair Wedding with David Tutera premieres Jan 16 9PM on WeTV
On January 16 at 9PM ET/PT, bride Chrissy and her fiancé Jason share a love for literature, so when it came time to decide on a theme for their wedding, they knew Lewis Carroll's classic tale Alice in Wonderland would be perfect.  But when David Tutera meets with his latest bride, he finds Chrissy has gone from classic to creepy.  From black-and-white striped tights under her wedding dress; 'little people' carrying her mini-train; and tiny chin-strapped top hats for her bridesmaids, this wedding is in need of a major rewrite!  With only three weeks before the wedding, David rushes into action, changing Chrissy's dreary, gothic bridal garb to an elegant and dramatic gown worthy of any queen.  From a fantastical maze to an ode to the Mad Hatter, David re-imagines one of the world's most famed fairytales.including a very special last minute surprise that nearly halts the nuptials!  And just like the story of Alice when she falls down the rabbit hole, this bride takes David down a most untraditional path he has never gone before.lending to another My Fair Wedding first!
Then on January 23 at 9PM ET/PT, David Tutera has created countless classic themed weddings in his career as a designer, but his latest bride Aime and her fiancé wish to have a Wizard of Oz-themed wedding. This will create a challenge for David like he has never seen before.  From poinsettia centerpieces and giant lollipops, to homemade red glitter ruby slippers and a construction paper yellow brick road runner, David must take Aime's wedding from kitschy to classy in record time.  And with Emerald City an iconic element in Aime's theme, green is the main color in this bride's nuptial landscape – a color at the top of David's "Distasteful" list!  David makes changes from top to bottom.and one which unknowingly will put him and his bride in jeopardy!
Rich Bride Poor Bride premieres Jan 16 9PM on WeTV
On January 16 at 10PM ET/PT, Christy and Raymond are about to tie the knot. Luckily for this couple, their families have generously offered to pick up the tab for most of the bill.  But what happens when Christy's over-the-top wants for the wedding force the couple to fork out a considerable amount of their own money just to bring her vision to life? Everyone knows that a big vision means big bucks and when a bride who is a classic over spender is paired with a groom who is stingy, sparks are sure to fly.
Then on January 23 at 10PM ET/PT, Bride and event planner Waveney is well acquainted with putting together large affairs and sticking to a budget. However her fiancé Kevin is another story. Impulsive and spontaneous, Kevin is the type of groom who wants his day to be extra special and to fill it up with many surprise elements for his bride – no matter the cost. Waveney is determined to keep to their budget but will Kevin's capricious nature be the death knell to their finances?
Will you watch WeTV Sundays lineup of My Fair Wedding with David Tutera and Rich Bride Poor Bride?
Let me know in the comments section. Also, remember to follow me on Twitter for more WeTV scoop.
Comments
comments