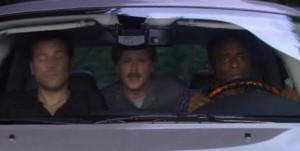 New Spoilers for Psych S05E10 Extradition II!!!!
Psych comeback is just around the corner November 10th 10/9 C.
And I have for you a special preview Spoiler Psych screening folks at USA Network allowed me to have. Also, remember there´s the whole Psych Contest Giveaway I´m holding for all you Psych fans.
In the season premiere "Extradition II," Shawn and Gus return to Vancouver to visit their old nemesis Despereaux (returning guest star Cary Elwes) in prison at the felon's request, who then uses them to escape and pull one last job before he is extradited to the United States.   Only while he is out, he is framed for the murder of a Crown Attorney and now asks the guys' for help clearing his name of this most recent – and frankly unseemly – charge.
First question you will all have of course
What happens after Winter finale Shawn and Juliet kiss, now on Psych Fall Premiere?
Did Juliet O´Hara break up with Declan?
You know I cannot spoil it for you guys. You´ll need to learn yourselves what happens between Shawn and Juliet´s kiss on Psych premiere when it airs on November 10th.
But what I can tell you is that after a discussion between Shawn and Gus regarding Desperaux, who Shawn claims to follow on Twitter.
Henry Spencer, the dad, tells Shawn to tell Juliet how he feels before it´s too late, but Shawn asks him not to have that conversation ever again.
But Shawn has a heart to heart conversation with McNab to ask him for advice in how Shawn could tell O´Hara he likes her.
And that´s all I can tell you in the form of Spoilers from Psych Fall Season Premiere Extradition II. The first five minutes.
For the rest you´ll need to watch Psych Fall Season Premiere Extradition II November 10th 10/9 C
What I can give you is two little Psych out jewels:
Best Quotes from Psych Fall Season Premiere Extradition II
– Shawn Spencer: I accidentally turned McNab and my father into confidents. It was a weird day…
– Gus: He was exposed for what he was. That´s all.
– Shawn: Gus, don´t be both Ashley Simpson´s albums.
– Gus: There were three Ashley Simpson´s albums.
– Shawn: That can´t possibly be true.
– Gus: Autobiography, Bittersweet…
– Shawn: I will not do this right now with you.
– Gus: Get it right if you´re gonna criticize me then.
– Gus: If we are out there for more than two days. I will eat you alive.
– Shawn: You couldn´t eat me.
– Gus: I would finish you whole.
– Shawn: Doesn´t make any sense.
– Gus: I would eat you in manageable bite size pieces.
– Police Officer: They are the waffle people.
– Shawn: Are you thinking what I´m thinking?
– Gus: Yes. We need to taste those waffles.
– Shawn: Now speak to the judge… I don´t love you anymore!
– Gus: Which one are you freaking out about? Juliet or Desperaux?
– Desperaux: I want to hire you to prove my innocence.
– Gus: You can´t hire us. We are trying to capture you.
– Shawn: We have a lot of questions for you.
– Desperaux: Fire away.
– Gus: Exactly how do you pick up a girl on prison?
– Juliet: Some people don´t fit.
– Shawn: But they are Lego People
– Shawn: Since I met you I´ve been thinking on getting a car. (You´ll love it when you see the episode and the context)
Burton Guster alias on Psych Fall Season Premiere Extradition II
Officer Clayton Bachynsky is introduced as "Big Apple Macintosh"
And Burton Guster is introduced as "My Partner Yasmine Bleeth" and Gus waves his hand femeninlike. Epic!
James Roday about the Episode Extradition II and working with Cary Elwes
On a Q&A Interview folks at USA invited us to be part of, James Roday himself told us this:
We had a lot of fund with Cary. I think we had more fun with him the second time than we did even the first time because he, you know, he was sort of comfortable in the skin of the character. And he sort of got of better idea of what our set is and that it was going to be all fun and games all the time. And he just came up to sort of goof around this second time. And we spent more time with him off set as well and met his beautiful wife and unbelievably beautiful little girl. And he's an all-around good guy and very funny in the episode.
To watch the full episode make sure to tune in to USA Network November 10th 10/9 C to watch Psych comeback for new episodes.
Are you going to watch Psych S05E10 Extradition II?
Also, remember to follow me on Twitter for more Psych Spoilers.
Comments
comments