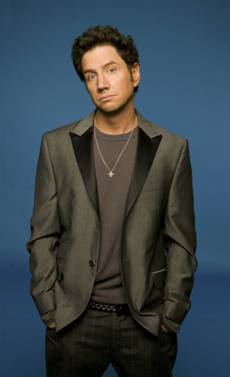 Folks at Showtime sent me this special alert for me to share it with you. A new Comedy Special from Jamie Kennedy is set To Premiere Saturday, November 6th At 9:00 PM (ET/PT) On Showtime
Jamie Kennedy has the chops to do a one hour stand up and makes us laugh all the way. Also, Find the latest dvd release,you can visit dvdsmarket
Jamie Kennedy has the wit and hilarity to keep anyone on their toes in Uncomfortable – a one-hour stand-up special premiering on Saturday, November 6th at 9:00 PM (ET/PT) on Showtime.  Best known for his work as an actor in more than 40 films (Romeo + Juliet, Scream, Three Kings) and with approximately 190 episodes of television under his belt (The Jamie Kennedy Experiment, Ghost Whisperer), Kennedy has no limits in his latest stand-up. As he candidly details his rollercoaster life in the public eye – from who he's dating, to his house getting burglarized, to the size of his little Jamie – viewers will experience it all.  This comedy special is the latest installment of the Network's on-going Showtime Laugh out Loud comedy franchise.
Kennedy, best known for his breakthrough performance in the hit horror film Scream and subsequent sequel Scream 2, landed his big break being cast in Baz Luhrmann's Romeo + Juliet, alongside Leonardo DiCaprio.   From there, he went on to work alongside some of the biggest names in Hollywood in such films as Bowfinger, As Good As It Gets, Three Kings, The Boiler Room and Enemy of the State.  In 2002, Kennedy created his own sketch television comedy show, The Jamie Kennedy Experiment, best described as a combination of Candid Camera meets Saturday Night Live.  The series quickly became The WB's highest-ranking new show, attracting three million viewers each week.  Among the wacky characters played by Kennedy, the all-time favorite – Brad Gluckman, the white "wanna-be rapper" from Malibu – lead to 2003's feature film, Malibu's Most Wanted.  In 2006, Kennedy's company Wannabe Producers produced MTV's Blowin' Up and his comedy special, Unwashed for Comedy Central.  Additional projects include Son of the Mask, Kickin' It Old Skool, Heckler, The Cleveland Show, and the highly rated CBS drama Ghost Whisperer.
The Showtime Laugh Out Loud comedy franchise has premiered popular, provocative specials from some of the world's best and brightest comedic talents.  Laugh Out Loud  continues to push the boundaries of televised comedy with exceptional comedians such as Sarah Silverman (Jesus Is Magic), George Lopez (Why You Crying?), Bobby Slayton (Born to be Bobby), Paul Mooney (It's the End of the World), Mike Epps (Underrated…Never Faded & X-Rated) and Kevin Pollak (The Littlest Suspect).
Will you watch Jamie Kennedy´s Uncomfortable Stand Up Presentation on Showtime Saturday November 6th?
Let me know in the comments section.
Comments
comments