A new year comes, and a new spinoff from Project Runway, after this year marked the launch of Project Accesory, 2012 is the time for the All Stars premiering Thursday, January 5, 2012 at 9:00pm ET/PT on Lifetime.
13 of the show's most talented and memorable designers who've come back to the catwalk to face a brand new panel of discerning eyes with host supermodel Angela Lindvall, world-famous designers Isaac Mizrahi and Georgina Chapman as judges and fashion tastemaker and mentor, Marie Claire Editor-in-Chief Joanna Coles. Even Miss Piggy will come by as a guest judge!
Who are the designers from Project Runway All Stars?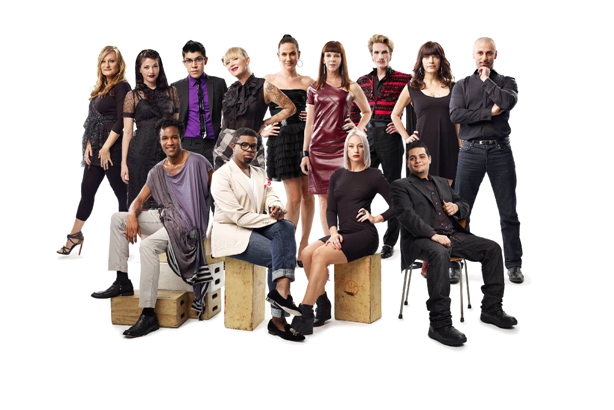 Kenley Collins (Brooklyn, NY) – Season Five, Second Runner-up
Michael Costello (Palm Springs, CA) – Season Eight, Fourth Place
Gordana Gehlhausen (San Diego, CA) – Season Six, Fourth Place
Mondo Guerra (Denver, CO) – Season Eight, Runner-up
Mila Hermanovski (Los Angeles, CA) – Season Seven, Second Runner-up
Kara Janx (New York, NY) – Season Two, Fourth Place
Elisa Jimenez (New York, NY) – Season Four, 10th  Place
April Johnston (Savannah, GA) – Season Eight, Fifth Place
Rami Kashou (Los Angeles, CA) – Season Four, Runner-up
Austin Scarlett (New York, NY) – Season One, Fourth Place
Jerell Scott (New York, NY) – Season Five, Fourth Place
Sweet P/Kathleen Vaughn (Pasadena, CA) – Season Four, Fifth Place
Anthony Williams (Atlanta, GA) – Season Seven, Fifth Place
What is the Prize for Project Runway All Stars Winner?
The winner of Project Runway All Stars will receive the most lucrative prizing ever in Project Runway history.  Prizes include an exclusive designer's boutique in select Neiman Marcus stores and on NeimanMarcus.com, $100,000 dollars in technology and office space to help grow their business from HP and Intel, $100,000 cash from L'Oreal Paris, a feature spread in Marie Claire, for which he or she will serve as a guest editor for one year, and a sewing and embroidery studio provided by Brother International.
Who is the Host of Project Runway All Stars?
Angela Lindvall grew up in a small, rural community outside of Kansas City, Missouri, and fell into
modeling by accident when her older sister who initially convinced Angela to sign up for a local fashion
show with her for fun.  Angela has since appeared on the cover of many major publications, including all
the international Vogues, Elle, Harper's Bazaar, ID, Dazed and Confused and many more.
Lindvall's "chameleon" like qualities has made her one of the most sought after models and one of the few to work with nearly every major fashion house including the likes of Prada, Chanel, Valentino, Gucci, Louie Vuitton, DKNY, Calvin Klein, Jil Sander, Chloe, Stella McCartney, and Versace to name a few.  She continues to be one of the most sought after models in an otherwise fickle industry.  Lindvall has also appeared on the big screen in the films CQ and Kiss Kiss, Bang Bang.  On television, she co-hosted Alter Ecco, with Adrian Grenier on which was one of Discovery's Planet Green Channel.
Who are the judges on Project Runway All Stars?
Isaac Mizrahi: Born  in  Brooklyn,  New  York,  Isaac  Mizrahi's  passion  for  design  and  performance  began  at  an early  age.    As  the  son  of  a  children's  clothing  manufacturer  and  a  fashion-obsessed  mom, Mizrahi was always encouraged to express his artistic talent.  After a youth spent staging puppet shows in his backyard and creating clothes for his mom's friends, Mizrahi studied acting at the High School of Performing Arts and fashion design at Parsons.
As  a  leader  in  the  design  business  for  more  than  twenty  years,  Mizrahi  has  been  awarded  four CFDA awards, including a special award in 1995 for the groundbreaking documentary Unzipped.
His  ready-to-wear  collection  is  available  at  high-end  retailers  and  specialty  boutiques  globally.
Mizrahi's designs are a favorite among celebrities and frequently seen on the red carpet.
In December 2009, Mizrahi launched his lifestyle collection, ISAACMIZRAHILIVE! on QVC.
The  brand  includes  all  of  Isaac's  favorite  things  from  handbags  to  dresses  to  cheesecakes.    In addition,  Mizrahi  is  the  Creative  Director  of  Liz  Claiborne  New  York,  overseeing  design  and development.  In 2003, Mizrahi revolutionized the industry by teaming with Target to launch a collection of chic and stylish clothing and accessories for women.
Isaac  has  created  costumes  for  movies,  theatre,  dance  and  opera  in  collaboration  with  Mark Morris,  Twyla  Tharp,  Mikhail  Baryshnikov  and  The  Roundabout  Theatre  Company  among
others.    In  2002,  Mizrahi  received  the  Drama  Desk  Award  for  his  costume  designs  for  The Women.  Most recently, Mizrahi made his directorial debut at The Opera House of St. Louis with
A Little Night Music.
In  1997,  Mizrahi  wrote  a  series  of  comic  books  entitled  The  Adventures  of  Sandee  the Supermodel  and  he  has  appeared  in  films  and  television  shows  including  Sex  &  the  City,  Ugly
Betty  and  Celebrity  Jeopardy.  Isaac  won  rave  reviews  in  2000  for  his  one-man,  off-Broadway show  Les  Mizrahi.      Television  audiences  have  come  to  love  Mizrahi  as  the  host  of  his  own
series on both the Oxygen Network and the Style Network and on Bravo's The Fashion Show.
Georgina Chapman: born in 1976 in London, England, is a fashion designer and former actress & model.  She, along with close friend and fellow Brit Keren Craig, co-founded MARCHESA in 2004.  Chapman currently serves as the brand's Designer and Creative Director, producing two seasonal collections, two bridal collections, and two pre-collections per year.
Chapman attended the Chelsea College of Art & Design in London, where she met Craig, with a focus in Design. Following her time there, Chapman enrolled at the Wimbledon College of Art for Costume and Design, where she perfected her skills as a costume designer. She spent much of her free time while in school and in her twenties modeling for Next Models in the UK, Europe and the US, which led to film credits such as Awake, The Nanny Diaries, Factory Girl and Match Point, as well as an appearance in the Fall 2008 Gap advertising campaign.
After graduating from Wimbledon College of Art in 2001, she embarked upon her career as a costume designer.  Industry veteran and muse, the late Isabella Blow, is largely credited with discovering Chapman at this time, when she noticed a dress the designer had created and worn to an event in the UK.  It was Blow, with her conviction for Chapman's talent in eveningwear, who
encouraged her to create a label focused on this niche enterprise, and thus, in 2004, MARCHESA was born.
Who is the mentor in Project Runway All Stars?
Joanna Coles was named Editor-in-Chief of the U.S. edition of Marie Claire, a joint venture between Hearst Magazines and Marie Claire Album, in April 2006.  Coles was recently named Adweek's Editor of the Year at the same time as the magazine was listed as #2 on Adweek's Hot List, an annual list of the most influential and successful magazines.
Coles has appeared regularly as an expert on the Today Show, CBS Early Show, The Rachael Ray Show, E!'s Chelsea Lately and CNN.  She also produced and starred in the Style network's non-scripted series about Marie Claire called Running in Heels.  British-born Coles moved to New York in 1997 as the New York Bureau Chief for The Guardian and subsequently The Times of London. Before moving to New York she worked as a radio and TV broadcaster for the BBC, a weekly op-ed writer and interviewer for The Guardian.
Who is your favourite to be the winner of Project Runway All Stars? Mine is Rami Kashou. Let me hear your thoughts in the comments section.
Also, remember to follow me on Twitter for more Project Runway All Stars scoop.
Comments
comments