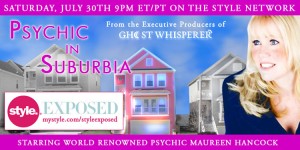 Update: You can enter to win an autographed book by Psychic in Suburbia Maureen Hancock.
Psychics always make for good television, right? Namely The Mentalist and Psych. Well, now, The Style Network is bringing one of the real deals with Psychic in Suburbia, featuring renowned Boston area-based psychic Maureen Hancock. The Show will debut as a one-hour special Saturday, July 30 at 9pm et/pt as part of The Style Network's "Style Exposed" documentary initiative.
The docudrama special was developed by Los Angeles-based Sander/Moses Productions (executive producers of "The Ghost Whisperer") and executive produced by its affiliate company SLAM in association with ABC Media Productions.
Blending emotional drama and humor, the special follows the remarkable life and work of Maureen Hancock, wife, mother, and acclaimed psychic, who, along with her two young nieces, transform lives by means of their unique ability to "reconnect" them with loved ones who've passed away, and thereby providing closure, answers, and hope. Hancock has accrued an impressive record of successes, as well as generating a never-ending private practice with more than 500 clients on her wait list at any given time.
Her two young nieces, Stassia, and Candace, have joined Hancock in her practice, and have themselves established a growing clientele as well. The dynamic between the three women, interacting as they do with their clients, and extensive roster of family members including Maureen's sisters, Rosie and Patrice, presents a dramatic, but often humorous look into their extraordinary lives, and the surprising, transformative results of this family of psychics.
"Psychic in Suburbia" is executive produced by Ian Sander, Kim Moses, and Rachel Tung, who also directed.
Will you watch Psychic in Suburbia, Saturday July 30th 9Pm on The Style Network? Let me know in the comments section.
Also, remember to follow me on Twitter for more Psychic in Suburbia scoop.
Comments
comments