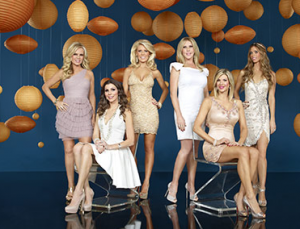 This was the show that kicked off the frenzy; the first one to chip in the reality side of the Desperate Housewives that were a phenom on the fictional front; and now, there´s a date for a new season of it, as Bravo renewed The Real Housewives of Orange County for season eight and set premiere date for April 1st 8PM ET/PT.
Bravo Media's original series that started the hit franchise, "The Real Housewives of Orange County" returns for an epic season eight on Monday, April 1 at 8pm et/pt. Reeling from the repercussions of last season's earth-shattering clashes, the series once again ventures behind the gates for a scandalous look at the loves and lives unfolding inside one of Southern California's wealthiest communities. Returning Housewives Vicki Gunvalson, Tamra Barney, Gretchen Rossi, Alexis Bellino and Heather Dubrow are joined by fresh-faced, level headed and surprisingly direct Lydia McLaughlin. After leaving the show four seasons ago, original Housewife Lauri Peterson makes a surprising return, rekindling her friendship with some of the ladies and revealing shocking information that will rock one of the wives' worlds.
Some of the highlights for season eight will be: Vicki Gunvalson finds herself on a roller coaster of emotions, celebrating the highs of being a new grandmother to Briana's new baby boy, while struggling to make her controversial relationship with Brooks survive. Her "southern beau" is once again the center of scrutiny and causes rifts among Vicki, her family and friends.
Tamra Barney's life was paradise at the end of last season, as Eddie proposed on the beaches of Bora Bora. But reality starts to sink in when the couple moves in and struggles to merge their separate lives. Between the challenges of trying to open their fitness studio and the stress of trying to plan a wedding, their bumpy road is made even worse by the fact that the more Tamra pushes to set a wedding date, the harder Eddie pushes back.
Wedding bells and babies are on Gretchen Rossi's mind. With her boyfriend, Slade, landing a job as a radio DJ, the path is paved for Gretchen to take the next big steps in her life. But starting a family isn't as easy as she had hoped.
Heather Dubrow's life as a stay-at-home mother takes a sharp turn as offers for acting roles on two popular sitcoms roll in. Although she's thrilled to be acting once again, trouble comes from the most unexpected source, her husband, Terry, when what should be a dream opportunity turns into the biggest challenge their marriage has faced.
Alexis Bellino is once again the center of controversy between the ladies. Feeling bullied and betrayed, Alexis turns to Vicki for comfort and friendship. But it's new Housewife, Lydia, who appeals to Alexis' faith in an effort to achieve forgiveness – with surprising and mixed results.
Newest Housewife Lydia McLaughlin joins the cast this season, and while she comes from a wealthy family and admits to living a privileged life, she is anything but reserved. She, along with her husband, Doug, owns and operates a high-end magazine that highlights the glamorous life of Southern California. Being a devout Christian, she has much in common with Alexis and lends a hand of support when the ladies turn on her yet again.
What do you think? Are you happy The Real Housewives of Prange County´s been renewed for season eight? Follow me on Twitter for more scoop on shows getting renewed like The Real Housewives of Orange County. Also, check the complete and updatable lists of renewed shows of 2013 and cancelled shows of 2013.
Comments
comments