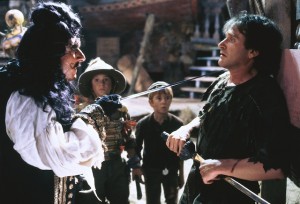 Hallmark Channel is for all the family, and which actor has more family great entertainment films more than Robin Williams? Well, not that many… and that´s why, Hallmark Channel is premiering a couple of Robin Williams among January programming.
Hook premieres on Hallmark Channel Saturday, January 28 (5p.m. ET/PT, 4C)
Starring: Robin Williams, Dustin Hoffman, Julia Roberts, Maggie Smith
Peter Banning is a 40-year-old corporate attorney who has lost any memory of being Peter Pan (Williams).  Peter and his family travel to London to visit Granny Wendy (Smith) and his children are asleep in the same bedroom where the original Peter Pan story began, when there is a blinding flash.  Peter comes into the room to discover a note from Captain Hook (Hoffman), informing Peter that he has kidnapped his children.  Granny Wendy now tells him who he really is and encourages him to transform himself into the Peter Pan of the past.  With the encouragement of Tinkerbell (Roberts), Peter once again takes flight, and he's off to Neverland to rescue his kids.
Jumanji premieres on Hallmark Channel Sunday, January 29 (5p.m. ET/PT, 4C)
Starring: Robin Williams, Bonnie Hunt, Kirsten Dunst, Bradley Pierce
Young Alan Parrish sits down to play a game with his friend, Sarah, and on a roll of the dice is mysteriously transported into the strange jungle realm of Jumanji.  There he remains trapped for 26 years, until two newly orphaned children, Judy (Dunst) and Peter (Pierce), playing in the attic of Alan's childhood home, free the now-adult Alan (Williams) from the game's clutches.  But to defeat Jumanji's encroaching powers, the three reluctant players must find the now-grown Sarah (Hunt) and band together as a makeshift family to finish the game–before it finishes them.
What do you think? Will you watch Hook and Jumanji on Hallmark Channel?
Comments
comments