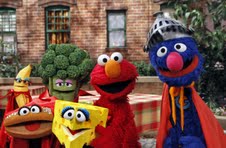 Sesame Street´s muppets have been a part of American Culture for many many years now, and they have always been a healthy influence. In this case, they joined  UnitedHealthcare and the Merck Company Foundation in this latest addition to the Workshop's Healthy Habits for Life initiative.
According to a Department of Agriculture study called "Household Food Security in the United States", seventeen million American children—nearly one in four—are food insecure, meaning they do not receive food that meets basic nutritional needs due to financial instability.  Of these children, more than half (9.6 million) are under the age of six.  In response to this, Sesame Workshop, the nonprofit organization behind Sesame Street, with funding and partnership support of UnitedHealthcare and The Merck Company Foundation, today announced Food for Thought: Eating Well on a Budget, a bilingual (English-Spanish) multimedia outreach initiative designed to help support families who have children between the ages of two and eight, cope with uncertain or limited access to affordable and nutritious food.
In conjunction with the official rollout, the program's contents will be unveiled on December 7th by Gary E. Knell, President and CEO, Sesame Workshop, Russell C. Petrella, Ph. D, President, UnitedHealthcare Community & State, Richard T. Clark, Chairman and CEO, Merck, and Sesame Street's Elmo at a community event at the Capital Area Food Bank in Washington, D.C.
The Food for Thought program will provide families with an educational outreach kit, which includes an original video featuring the debut of four new Sesame Street Muppets, the "Superfoods." The video also features Elmo and friends, along with real families as they try new foods, learn about the importance of healthy snacks, and discover that sharing a meal together is a perfect opportunity to connect as a family. There is also a special section for parents and caregivers that addresses the social and emotional issues related to food insecurity; and a segment with award-winning chef Art Smith, who shows families how to stretch a meal and shop locally while saving money. Additionally, for the first time ever, the Muppet story featured in the outreach kit will air on Sesame Street on PBS on December 8th (check local listings).
Sesame Workshop laid the foundation for this project beginning in 2004 with Healthy Habits for Life, a multi-year initiative aimed to teach parents and children that health and well-being is just as crucial to child development as learning how to read and write.
As the country's economic status continues to take its toll, the number of young children confronting food insecurity continues to increase, as do the subsequent effects on children's health, school performance, growth, and development.
Through Food for Thought: Eating Well on a Budget Sesame Workshop will extend the Healthy Habits for Life Initiative by educating families on how to nurture their children's overall development through good nutrition—even in the face of tough economic or social decisions to create positive effects that last a lifetime.
"Sesame Workshop's sole mission is to help children reach their highest potential. As part of our overall Healthy Habits for Life initiative, Food for Thought is essential in helping children learn the importance of developing a healthy lifestyle by eating nutritional food despite a low or reduced income and helping them succeed in school…and in life," said Gary E. Knell, President and Chief Executive Officer of Sesame Workshop. "We are so happy to have the support of two incredible organizations such as UnitedHealthcare and The Merck Foundation to make this initiative possible."
"We share Sesame Street's commitment to help families and communities make nutritious food choices and we are proud to sponsor Food for Thought as a crucial addition to our comprehensive programs promoting healthy lifestyles," said Russell C. Petrella, Ph. D, President, UnitedHealthcare Community & State. "This initiative supports UnitedHealthcare's mission to help people live healthier lives by promoting sound nutritional and exercise programs."
"Hunger and malnutrition are preventable, yet American children continue to suffer from these conditions at an alarming rate," said Richard T. Clark, Chairman and CEO of Merck, a global healthcare leader. "Through education and partnerships like Food for Thought, Merck is helping families start on the right path to wellness through lifelonghealthy eating habits."
The Food For Thought resource kit is designed to:
·         Assist children and families in achieving a balanced and healthy diet by educating them about nutritionally sound foods that are easier to access and that are good for child development,
·         Support families facing economic challenges to model and encourage children to eat healthy foods and be physically active,
·         Provide resources that allow both children and adults to make healthy food choices based on simple and familiar messages, including sometime and anytime foods and eating a rainbow of colors; and
·         Inform families about locally available resources and programs for them and their children to access nutritionally sound foods.
The 400,000 kits will be distributed through UnitedHealthcare, The Merck Foundation and other key organizations including National WIC association, Feeding America, Head Start, Meals on Wheels and other key organizations. The initiative will also include two public service messages promoting trying new foods.  All bilingual materials will be available at www.sesamestreet.org/food.
Hope you can join the Food For Thought initiative.
Comments
comments