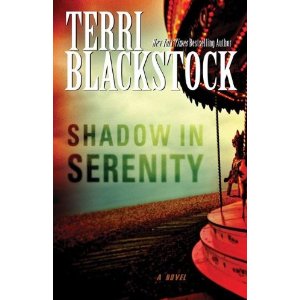 I had the chance to get this book prior to its release to share my thoughts about it; so a few days ago I received in my mailbox an advance reading Copy of Shadow in Serenity by Terri Blackstock, the New York Times best selling author.
Shadow in Serenity tells the story of Carny Sullivan, a woman who broke free from a life of cons in the middle of a carnival life, and she found her home and loved ones in Serenity, Texas, at least until Logan Brisco, a slick and handsome conman trying to pull a scam to townspeople, unless Carny can stop him to… and maybe in the process change his criminal ways.
There´s a bit of mistery novel, a bit of police novel and a bit of romance novel in this book by Terri Blackstock. Shadow in Serenity is a book mainly promoted toward the Christian market, but people outside that market can also very much enjoy the book, since it´s basically a good mistery / police / romance novel.
There´s always a lesson to be learned in every one of our actions, and there´s always the chance for people to change and find the good path. That´s the message behind this book that turned out to be entertaining and had me reading it fully in just three days.
And we even get to learn the "Con Man commandments" that the book shows us that breaking the first one is the best and fastest way to change courses and go to the rightful path.
What are the Seven Con Man Commandments?
1- Never Fall in Love
2- Only Take from those who deserve it
3- Never stay in one place too long
4- Never let your conscience slow you down
5- Never allow your picture to be taken, except for counterfeit IDs or passports
6- Always travel light
7- You can be forgiven any crime if you commit it with class
Who is Terri Blackstock? Author of Shadow in Serenity
She´s a New York Times best selling author who sold over six millions books among her several novels including: Vicious Cyrcle, Intervention, Predator and Doubl Minds.
How to buy Shadow in Serenity by Terri Blackstock?
The book is coming out in September 27, 2011, and will be available in every bookstore starting October, but you can also buy it online at Amazon. It´s retail price is 14,99.
What do you think? Will you read Shadow in Serenity by Terri Blackstock? Let me know in the comments section.
Also, remember to follow me on Twitter for more book reviews.
And if you are promoting a book, contact me. I´d love to review it.
Comments
comments