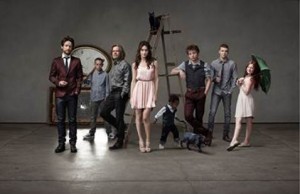 In yet another addition to our lists of renewed shows of 2013 and cancelled shows of 2013,  Showtime is adding one of its hits for another run, as Shameless gets renewed for season four. The show has become a bonafide hit, as the third season of SHAMELESS is up 22 percent, currently averaging 5.4 million weekly viewers across platforms (vs. second season average of 4.4 million), and up 63 percent versus its first season (vs. 3.3 million).
From Emmy® Award-winning television and film producer John Wells, SHAMELESS (Sundays at 9 p.m. ET/PT) stars Academy Award® nominee William H. Macy and Golden Globe® nominee Emmy Rossum.  Season three picked up several months after last season ended, with the Gallaghers each seeking their own unique version of the "American Dream." Fiona (Emmy Rossum) realizes that it's going to take more than earning her GED to make ends meet, and that a long term relationship with Jimmy (Justin Chatwin) isn't as fulfilling as she expected.  Brothers Lip (Jeremy Allen White) and Ian (Cameron Monaghan) continue their ingenious scamming ways, which threatens Ian's shot at West Point, while Sheila (Joan Cusack, in her Emmy Award-nominated role) and Jody (Zach McGowan) do their best to raise baby Hymie. Meanwhile, Frank (Macy) reappears south of the border with no idea as to how he got there. The series also stars Ethan Cutkosky, Shanola Hampton, Steve Howey, Emma Kenney, Laura Slade Wiggins, Noel Fisher and Emma Greenwell. Based on the long-running hit UK series, SHAMELESS is executive produced by Emmy Award-winning television and film producer John Wells, Andrew Stearn and Mark Mylod. Wells developed the series for American television. Paul Abbott serves as Executive Consultant. SHAMELESS is produced by Bonanza Productions, Inc. in association with John Wells Productions and Warner Bros. Television.
What do you think? Are you happy Shameless got renewed? You can also follow me on Twitter for more scoop on shows getting renewed like Shameless has.
Comments
comments