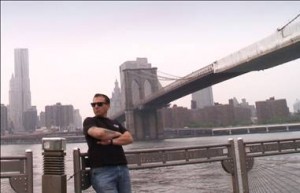 Travel Channel will premiere back-to-back pilots of "Slice of Brooklyn" as a special one-hour presentation on Wednesday, March 7 at 10:00 p.m. and 10:30 p.m., ET/PT.  "Slice of Brooklyn" is an authentic, fun and informative glimpse into the lives of native Brooklynites Tony Muia, his cousin Paula, and his friends from the old neighborhood, that he appropriately calls his "consiglieri."  What makes this oddball family so special is that they run a small but very successful tour bus company, highlighting the best pizza spots in Brooklyn, NY.  The tour is always booked to capacity and gets the highest rating on most websites.  But, there are bigger fish swarming through the East River from Manhattan, and they're trying to gobble up his clients.  Will Tony be able to keep his business afloat with multi-million dollar tour companies looking to take over his turf?  One thing for sure is that Tony is not going down without a fight.
Watch Slice of Brooklyn – Pizza Crashers (10:00 p.m., ET/PT) on Travel Channel
Facing increasing competition, Tony desperately seeks a new tour guide to expand the business, while his consiglieri go undercover to crash a competitor's tour.
Watch Slice of Brooklyn – Utterly Un-Italian (10:30 p.m., ET/PT) on Travel Channel
Tony and his consiglieri eat their way across Brooklyn's ethnic neighborhoods, while his new tour guide exposes a dirty little secret that could stop the tour in its tracks.
What do you think? Will you watch Slice of Brooklyn on Travel Channel? Let me know in the comments section.
Also, remember to follow me on Twitter for more Slice of Brooklyn scoop.
Comments
comments