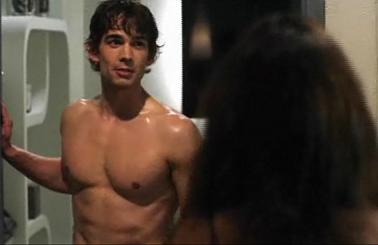 Fans of Covert Affairs, the newest hit from USA Network, a show which this week got renewed for a second season will be thrilled to see the next episode.
A lot of Christopher Groham on screen time. And when I say a lot, I mean a looooot.
Folks at USA Network gave me a full episode preview and I got the chance to view Covert Affairs S01E07 Communication Breakdown.
So, here are some Covert Affairs Spoilers for Communication Breakdown.
If you don´t want to read spoilers, this is a good moment to leave this post, but be sure to watch Covert Affairs next Tuesday 10/9 C. for a great huge episode.
No wonder this is a good episode… they call it The Auggie Episode, since it´s a Christopher Gorham centered episode, and, hear me out all you who think he´s hot. You´ll have a lot of shirtless Christopher Gorham in the episode.
Starting in the first minutes on an almost sex scene between Christopher Gorham and Emmanuelle Vauguier , in an Auggie – Lisa Hearn sex scene. (Just a coincidence… it´s the second time Emmanuelle Vauguier does an episode called Communication Breakdown, since she did one in 2009 on CSI NY as Detective Jessica Angell)
Back to Covert Affairs Spoilers…
Auggie gets back on the field… against his exgirlfriend… new hot scene there between Auggie and Natasha on Covert Affairs…
And finally the Auggie fight scene, a huge turning point on the show. Auggie is no longer the tech guy geeky spy wingman to Annie… he´s a hot kickass spy that will turn Covert Affairs from a great show to a must watch.
I was always rooting for more Christopher Gorham on TV. I got my wishes last season with Harper´s Island, but that lasted 13 episodes… now it´s a new good one… Covert Affairs in a network that takes good care of their shows, being very careful with their bets, and getting good rewards (Burn notice, Royal Pains, White Collar, Covert Affairs, Psych, etc).
Now I only need to get some more Felicia Day on TV and I´m the happiest person on earth.
Are you going to watch Covert Affairs S01E07 Communication Breakdown "The Auggie Episode" next Tuesday, August 24th at 10/9 C.
Did these Covert Affairs spoilers I gave you make you want to watch it more? If I didn´t… please take my word. The episode is awesome.
Head to the comments and let me know.
Also remember tohref="http://twitter.com/seriesandtv"> follow me on Twitter for more scoop.
Glossary:
Who is Christopher Gorham? Profile
CHRISTOPHER GORHAM
Auggie Anderson
Christopher Gorham stars as Auggie Anderson in COVERT AFFAIRS, USA's much-anticipated, new drama series.  A CIA military intelligence agent, Auggie was blinded while on assignment and acts as unofficial guide for rookie agent Annie Walker as she navigates this world of bureaucracy, excitement and intrigue.
Audiences will likely best remember Gorham from his role on ABC's "Ugly Betty" as Betty's boyfriend, Henry, as well as the critically-acclaimed CBS Series "Harper's Island."  Prior to that, he was a series regular on the NBC comedy "Out of Practice" opposite Henry Winkler, Ty Burrell, Stockard Channing and Jennifer Tilly and also starred as Dr. McCabe opposite Neal McDonough in NBC's "Medical Investigation."  Other television credits include recurring roles on both
"Felicity" and "Party of Five."  Gorham also has guest-starred on such series as "CSI," "Without a Trace," "Boomtown" and "Buffy the Vampire Slayer" before transitioning to leading man in "Jake 2.0."  In the acclaimed action-adventure drama series he starred as Jake Foley, a computer technician whose life is drastically changed when he is accidentally
injected with microscopic machines that invade his nervous system and endow him with superhuman abilities.  Gorham also starred in the sci-fi adventure series "Odyssey 5" with Peter Weller.
Gorham made his feature film debut in acclaimed director Danny Boyle's "A Life Less Ordinary," with Ewan McGregor
and Cameron Diaz.  In direct contrast, he starred opposite Anne Hathaway as a missionary who heads to Tongan Islands in the film "The Other Side of Heaven" for producer Gerald Molen.  He recently completed starring roles in four independent films, the latest being "The Ledge" opposite Liv Tyler, Patrick Wilson and Terrence Howard.
In addition to acting in television and film, Gorham also completed a guest star performance role in the Off-Broadway production of "Spalding Gray:  Stories Left to Tell" at the Minetta Lane Theatre.
A native of Fresno, CA, Gorham, attended UCLA.  While there, he met his wife, actress Anel Lopez, Gorham with whom he now has two sons and a daughter.
Comments
comments