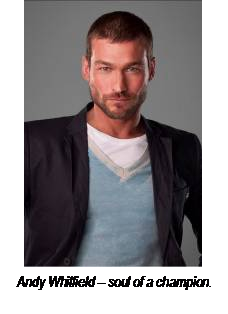 Last september 11th Spartacus star Andy Whitfield passed away, and Starz issued an official statement saying "We are deeply saddened by the loss of our dear friend and colleague, Andy Whitfield," said Starz President and CEO Chris Albrecht.  "We were fortunate to have worked with Andy in 'Spartacus' and came to know that the man who played a champion on-screen was also a champion in his own life.  Andy was an inspiration to all of us as he faced this very personal battle with courage, strength and grace.  Our thoughts and prayers are with his family during this difficult time.  He will live on in the hearts of his family, friends and fans."
And now, Andy Whitfield – an honorable fighter both on and off camera – will be remembered on STARZ, Sunday, October 2 beginning at 9:00 p.m. (et/pt).
The actor passed away on September 11th and is known internationally for shaping the breakout role of Spartacus, during the first season of the STARZ Original series "Spartacus: Blood and Sand." He was chosen after a worldwide search to find the perfect Hollywood star to play the title role with passion and grace. His fans, friends, and colleagues alike have compared Whitefield's own persona, to that of the noble, brave, honorable gladiator character he played on screen.
STARZ' tribute will showcase five episodes of the "Spartacus: Blood and Sand" series, including the premiere and finale episodes. The network is set to re-air the entire season of "Spartacus: Blood and Sand" on December 16, 2011.
Will you watch Andy Whitfield tribute?
Comments
comments