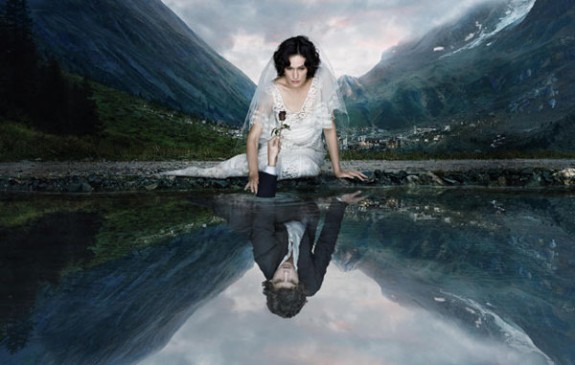 Since Halloween is again just around the corner, here we are taking a look at what each network is preparing for those times, and as usual ABC Family´s 13 Nights of Halloween are a staple, Sundance TV is bringing two great marathons, and the premiere of the new season of The Returned.
Sundance TV Halloween Special "Stephen King Thriller Week" – Movie Marathon
Sunday, October 25 beginning at 8:00 p.m. ET/PT and leading into the season two premiere of "The Returned"
In the spirit of the Halloween season, and to celebrate the 35th anniversary of Stephen King's The Shining, SundanceTV will air a "Stephen King Thriller Week," featuring King's fan-favorite films, beginning Sunday, October 25, 2015 at 8:00 PM ET/PT. The films will culminate with an airing of The Shining, which will then lead into the highly anticipated season two premiere of SundanceTV's International Emmy® and Peabody Award-winning French drama, "The Returned," on Saturday, October 31, 2015 at 10:00 PM ET/PT.
Stephen King's film adaptation of The Shining is written and directed by Stanley Kubrick. Jack Torrance (Jack Nicholson), a writer and former teacher, agrees to take care of a hotel which has a long, violent past that has driven people who have lived there insane. While Jack slowly becomes more violent and angry, his son, Danny (Danny Lloyd), tries to use a special talent, the "Shining", to inform people outside the hotel about what is going on.
Sundance TV Halloween Special "The Returned" – Season Two Premiere
Saturday, October 31 at 10:00 p.m. ET/PT
Sundance TV's International Emmy® and Peabody Award-Winning drama "The Returned" takes place in an idyllic French mountain town, where a seemingly random collection of people find themselves in a state of confusion as they attempt to return to their homes. What they don't know yet is that they have been dead for several years, and no one is expecting them back. As they struggle to reintegrate with their families and past lovers, buried secrets emerge and new mysteries develop as they grapple with a miraculous and sinister new reality.
The second season of "The Returned" picks up six months after the deceased gathered outside the Helping Hand shelter before disappearing into the mountains with Simon (Pierre Perrier), Camille (Yara Pilartz), her mother, Claire (Anne Consigny), Julie (Céline Sallette) and the mysterious youngster Victor (Swann Nambotin). Since then, nothing has been heard of them or the police who fought to protect the Helping Hand shelter's residents. In present day, Adèle (Clotide Hesme) is about to give birth to Simon's child, part of the town is still flooded and the dam remains under surveillance, with the army providing logistical support for those residents who have chosen to stay. Rumors abound that the dead have returned, but the authorities refuse to believe them. The rare witnesses have chosen to remain silent or are not taken seriously, among them Léna (Jenna Thiam) and her father Jérôme (Frédéric Pierrot), who have not given up hope of finding Claire and Camille. But when a mysterious man named Berg (Laurent Lucas) pays a visit to the town, it appears he knows more than he claims.
New characters this season – Berg (Laurent Lucas), Milan (Michaël Abitboul), Audrey (Armande Boulange) and Virgil (Ernst Umhauer) – join returning characters Toni (Grégory Gadebois), Serge (Guillaume Gouix) and Lucy (Ana Girardot). "The Returned" is produced by Haut et Court TV for CANAL+ CREATION ORIGINALE and written by Fabrice Gobert, Audrey Fouché, Coline Abert and Fabien Adda. The series is directed by Gobert and Frédéric Goupil. Mogwai will return to score the season two soundtrack.
Sundance TV Special Halloween "Halloween Hangover" – Movie Marathon
Sunday, November 1 beginning at 6:00 a.m. ET/PT
Sundance TV has the "cure" for those who just can't get enough holiday scares, with a holiday hangover ?marathon featuring all five original Halloween titles airing all day, including "Halloween," "Halloween II," "Halloween III: Season of the Witch," "Halloween 4: Return of Michael Myers" and "Halloween 5: The Revenge of Michael Myers."
Will you be watching Sundance TV Halloween 2015 Special Programming? Follow me on Twitter for more scoop.
Comments
comments