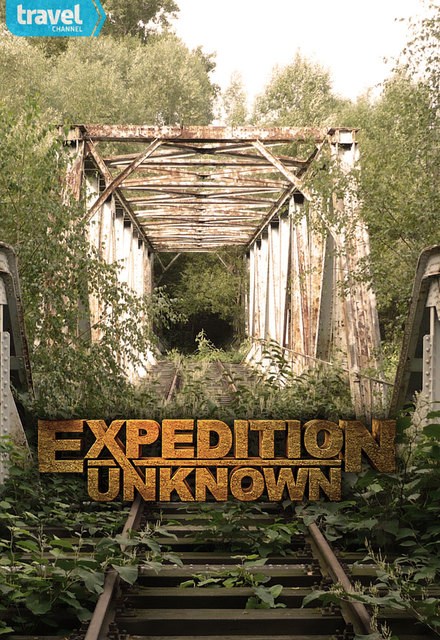 Halloween is not only times of costumes and trick or treating… it is also the time for scary television. ABC Family has 13 Nights of Halloween, Starz premieres Ash Vs Evil Dead, Sundance TV has special Marathons, so now, let´s take a look at what Travel Channel has planned for Halloween 2015.
Travel Channel Halloween 2015 Special "Expedition Unknown" – "Hunting Vampires"
Wednesday, October 28 at 9:00 p.m. ET/PT
An archeological dig in Bulgaria has revealed what appears to be the 700-year-old skeletal remains of real-life vampires. Meanwhile, Romanian villagers have been arrested for digging up suspected vampires in the local graveyard. What's really going on here? In this special episode timed to Halloween, Josh Gates travels across Transylvania to follow the legend of the vampire from its shadowy origins to a modern day mystery.
Travel Channel Halloween 2015 Special  "Ghost Adventures" Marathon – Zak Bagans' Favorite Episodes
Friday, October 30 from 9:00 a.m. – 12:00 a.m. ET/PT
A special "Ghost Adventures" marathon will feature episodes hand-picked by the show's host and lead investigator, Zak Bagans. The full-day marathon features 14 of Bagans' favorite investigations, including Bell Witch Cave, Transylvania, Nopeming Sanatorium and more.
Travel Channel Halloween 2015 Special  "Ghost Adventures" – "Extra Pulses: Exorcist House"
Friday, October 30 at 9:00 p.m. ET/PT
The "Ghost Adventures" team investigates the Exorcist House in St. Louis, Mo., site of the most famous demonic possession in paranormal history. This special episode has been enhanced with pop-ups of fun facts and updates since the team first investigated for the series' monumental 100th episode in Season Eight.
Travel Channel Halloween 2015 Special  "Ghost Adventures" Marathon – Fan Favorite Top 10 Episodes
Saturday, October 31 from 11:00 a.m. – 9:00 p.m. ET/PT
This Halloween-day marathon looks to "Ghost Adventure" fans to choose the lineup! A 10-hour marathon will feature the top 10 "Ghost Adventures" episodes as voted on by the fans.
Travel Channel Halloween 2015 Special  "Ghost Adventures" *Two-Hour Halloween Special* – "Deadwood: City of Ghosts"
Saturday, October 31 at 9:00 p.m. ET/PT
In this year's special two-hour Halloween episode, the "Ghost Adventures" team embarks on a full-scale investigation of Deadwood, S.D. Known as one of the deadliest towns in American history, Deadwood is shrouded in violence, betrayal and paranormal activity. In a lockdown like no other, the crew investigates a number of the town's famed buildings. At the Bullock Hotel, Zak Bagans meets John, who has a special connection to the spirit of a young boy named Billy. An EVP (Electronic Voice Phenomena) session confirms their interactions, but suddenly Bagans and John begin to feel enormous animosity toward one another, forcing them to separate. Bagans is introduced to Ernie LaPointe, the great-grandson of Sitting Bull, who warns the team to be cautious about angering the spirits. At Wild Bill's Trading Post, where Wild Bill Hickok was famously shot and killed in 1876, the guys learn about a male voice that is often heard – and may be connected to an employee's home. As the team begins the lockdown, Bagans suddenly drops to his feet in agonizing pain. When a small figure is captured on the SLS (Structured Light Sensor) camera, Tolley also begins to feel sharp pains. Next, the team sets up a card game reenactment at the Trading Post to channel the spirit of Wild Bill, during which a voice is captured on the spirit box.
The crew continues on to the Fairmont Hotel, where owner Ron believes the "angry man" spirit caused him to have a heart attack. He also informs the group about a prostitute named Maggie, who leaped to her death from the third floor. At the Adams House, an employee believes the spirit of W.E. Adams may still be lingering. Bagans and Goodwin begin their investigation at the Fairmont, while Tolley and Wasley explore the Adams House. Bill Chappell joins the lockdown with groundbreaking new equipment that can scan brainwaves and spot abnormalities before a paranormal event occurs. At the Fairmont, Bagans witnesses a tall male figure and unexplained loud noises, while Goodwin is startled by a young, female scream. Conducting an EVP session, they receive intelligent responses to their questions. As Bagans wanders down the hallway, a garbage bin is violently thrown at him without any logical explanation. After an intense investigation, the guys are left feeling that, even in death, the ol' gunslingers are still fighting in the buildings of Deadwood.
Will you watch Travel Channel 2015 Halloween Programming? Follow me on Twitter for more scoop.
Comments
comments