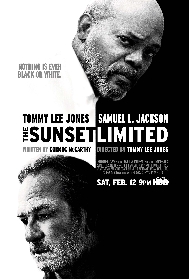 You sure can imagine good things coming out from a Tommy Lee Jones / Samuel L Jackson collaboration, right? Well, that´s what HBO has in store for us premiering February 12th.
Award® winner Tommy Lee Jones ("No Country for Old Men," "The Three Burials of Melquiades Estrada") and Academy Award® nominee Samuel L. Jackson (the "Iron Man" series, "Pulp Fiction") star in HBO Films' THE SUNSET LIMITED, debuting SATURDAY, FEB. 12 (9:00-10:30 p.m. ET/PT), exclusively on HBO.
Based on the play of the same name by eminent Pulitzer Prize-winning writer Cormac McCarthy ("The Road," "All the Pretty Horses," "The Crossing"), THE SUNSET LIMITED is directed and executive produced by Tommy Lee Jones, written by McCarthy, produced by Barbara A. Hall, and is an HBO Films presentation of a Javelina Film Company production.
Other HBO playdates:  Feb. 12 (12:25 a.m.), 13 (7:15 p.m.), 15 (1:30 p.m., 8:30 p.m.), 20 (2:15 p.m., 11:00 p.m.), 26 (noon) and 28 (10:15 a.m., 9:00 p.m.)
HBO2 playdates:  Feb. 17 (9:15 a.m., 8:00 p.m.) and 27 (9:30 a.m., 9:00 p.m.)
THE SUNSET LIMITED is a searing two-character drama that mixes humor and pathos while examining the relationship between strangers who are brought together by desperate circumstances.  Set in a New York tenement apartment, the story focuses on two very different men – a deeply religious black ex-con (Samuel L. Jackson) who thwarts the suicide attempt of an asocial white college professor (Tommy Lee Jones) who tried to throw himself in front of an oncoming subway train, The Sunset Limited.  As the one attempts to connect on a rational, spiritual and emotional level, the other remains steadfast in his hard-earned despair.  Locked in a philosophical debate, both passionately defend their personal credos and try to convert the other.
Premiering in 2006 at the Steppenwolf Theatre in Chicago, Cormac McCarthy's "The Sunset Limited" opened off-Broadway in the fall of that year.
Watch Sunset Limited – HBO premiere for February 12th trailer video
Tommy Lee Jones has enjoyed a rich association with the playwright and author, having starred in the film version of McCarthy's novel "No Country for Old Men," and has penned an adaptation of McCarthy's "Blood Meridian."
"THE SUNSET LIMITED is a classical dialectic rendered in modern vernacular," explains Jones.  "It is two opposing viewpoints that consider very big issues:  life and death, faith, the future of mankind.  With Cormac McCarthy, the questions raised are always interesting and very often funny.  If we can raise The Big Questions in a way that is fun for our audience to try to answer, then we've done our job.  There's no reason you can't enjoy The Big Questions."
THE SUNSET LIMITED was shot in 12 days at the Garson Studios in Santa Fe, New Mexico, working from the text of Cormac McCarthy's play.  Following several days of rehearsal with Samuel L. Jackson and McCarthy himself, Jones began to shoot the film, which was divided into 52 scenes, approaching the dialogue-driven script with the intention to honor the beauty and elegance of McCarthy's writing.
Says Jones, "We tried as hard as we could to observe and perform word for word and to perform the inherent strength of McCarthy's language. It needs to be very precise because the rhythms are the point."
Samuel L. Jackson admits to being slightly daunted by the scope of McCarthy's script.  "Cormac's a good wordsmith, but I was worried about all these words I had to learn, because I hadn't exercised that muscle in a long time," he says.  "It's very poetic and the big speeches are very musical and a lot of fun to act out."
The key to working within the confines of such a short shooting schedule and tackling page upon page of extensive dialogue and soliloquy-like narration is planning.  Jones was meticulous in his design and preparation for the film.
"He plans, he studies, and he thinks," explains co-producer Wes Oliver.  "Tommy's preparation is so complete and intense that when he shows up wearing many different hats, he's not looking for serendipity or magic.  He works from craft and planning."
To meet the challenge of keeping a film that is set in one room visually interesting, it was decided to wild-wall the set so that sections of the walls and ceiling could be removed to accommodate various camera angles and give the actors freedom of movement.
Says production designer Merideth Boswell, who has worked on four previous films with Jones, "Tommy wanted the set to be very athletic.  He wanted there to be enough circulation space for the actors to do what they needed to do.  He wanted the walls to fly."
Boswell was delighted to discover that Cormac McCarthy had mechanical as well as literary prowess.  While visiting the set, the former architect and engineer suggested ways to help facilitate the 11 sections of wild walls as they slid back and forth, in and out of the set.  The key grip and construction coordinator were instrumental in devising a sleek, efficient system to cut down on re-set time, which was important with such a tight shooting schedule.
Director of photography Paul Elliott, who shot the film with a newly developed high-definition Sony F-35 camera, helped meet the challenge of keeping the film interesting visually.  "They're in this space for the entire movie," explains Elliott.  "Tommy and I talked a lot about the blocking and keeping it varied – finding the right camera moves, the right camera placement, the right lenses; when to move a camera; when to be still.  We didn't want gratuitous camera moves flying all around the place just because we want to keep it moving.  It became somewhat of an organic process."
Tommy Lee Jones ("White"/director/executive producer) has credits in more than 60 films and TV productions.  Highlights include Emmy Award®-winning (Outstanding Lead Actor in a Limited Series or Special) performances  in "The Executioner's Song" and "Lonesome Dove."  An Academy Award® and Golden Globe winner as Best Actor in A Supporting Role for "The Fugitive," he also received Best Supporting Actor Academy Award® nominations for "JFK" and "In the Valley of Elah."  Jones' other film credits include "Cobb," "Batman Forever," the two hit "Men in Black" films and the upcoming "Men in Black III," "U.S. Marshals," "The Three Burials of Melquiades Estrada" (which he also directed), for which he won a Best Actor award at the Cannes Film Festival, "No Country for Old Men," for which he shared a SAG Award, and "Coal Miner's Daughter," for which he received a Golden Globe nomination for Best Motion Picture Actor – Musical/Comedy.  Jones will soon be seen in "The Company Men" and is working on the film adaptation of the Ernest Hemingway novel "Islands in the Stream," for which he will also produce, direct and act.
Samuel L. Jackson ("Black") won a BAFTA Award and received an Academy Award® nomination for Best Actor in a Supporting Role for his memorable performance in "Pulp Fiction."  A Golden Globe nominee for "Jackie Brown" and "A Time To Kill" he received two other Golden Globe nominations in the same year for "Pulp Fiction" and HBO's Emmy®-winning film "Against the Wall."  Jackson's other noteworthy films include Spike Lee's "Jungle Fever" (Best Supporting Actor Award at Cannes), "Patriot Games," "True Romance," "Jurassic Park," "Die Hard with a Vengeance," "Eve's Bayou," "Unbreakable," "The Incredibles," "Black Snake Moan," "Snakes on a Plane," "Iron Man," "Iron Man 2" and "The Other Guys."  He has been nominated eight times for Image Awards and won twice, for "Coach Carter" and "A Time to Kill."
Barbara A. Hall (producer) has amassed an impressive list of producing credits, overseeing such films as "All Good Things," "The Company Men," "The Men Who Stare at Goats," the Oscar®-nominated "Milk," "Leatherheads," "Mr. Magorium's Wonder Emporium," "Art School Confidential," "Good Night, and Good Luck," "Ray" and "I Am Sam."  Her other production credits include "The Cider House Rules," "Bounce," "Cookie's Fortune," "What Dreams May Come," "Hugo Pool," "Suddenly," "Albino Alligator," "The Big Kahuna," "Ghost World" and "Dominion."
Will you watch Sunset Limited with Tommy Lee Jones and Samuel L Jackson on HBO February 12th? Let me know in the comments section. Also, remember to follow me on Twitter for more HBO Movies Scoop.
Comments
comments