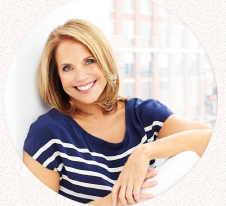 Shows keep coming to the lists of renewed shows of 2013 and cancelled shows of 2013 from the syndication front, in this case Katie Couric´s talker Katie got renewed for a new season. Now, as Disney-ABC Domestic Television has formally renewed Katie Couric's freshman syndicated talk show Katie for a second season, the show will come back for a new run on 95% of the United States. This should surprise no one, as Katie ranked for 20 weeks in a row as the top newcomer syndicated talk show both in total viewers and women 25-54. So, as you can see, a no brainer to renew Katie for season two.
You can find out which station to watch Katie on according to where you live in Katie Couric´s Station Finder.
While you rejoice on the news about Katie getting renewed, you can also check out how to be on Katie´s Talk Show here.
Katie is timely and topical – blending entertainment, information and the stories of each day in a way that is engaging and compelling. On the show, Katie tackles a wide range of issues – some of them important, some of them just plain fun. She loves interacting with her audience, shedding some light on the things that matter most to them, and hopefully provide useful advice and solutions. All while having some fun along the way.
Katie broadcasts live in front of a studio audience every day from ABC's TV1 Studio in New York City. It is an interactive format, engaging guests before, during, and after the show. Katie is syndicated and distributed by Disney/ABC Domestic Television.
What do you think? Are you happy Katie got renewed? You can also follow me on Twitter for more scoop on shows getting renewed like Katie has.
Comments
comments