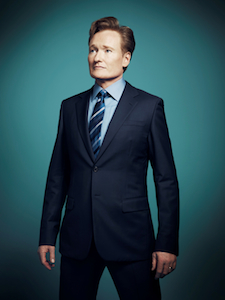 Just as there´s a huge feud over at NBC regarding the future of The Tonight Show with Jay Leno and even rumors of Conan O´Brien taking his potential spot. Rumors that were shattered by O´Brien himself, TBS does the right move and renews Conan through November 2015, ending every possible talk and just focusing on working forward.
As CONAN begins a week of shows in Atlanta to celebrate the Final Four, TBS has announced that it is extending the late-night series through November 2015. The move further solidifies the ongoing relationship between the network and the popular late-night host. CONAN, hosted by Conan O'Brien, airs Monday-Thursday at 11 p.m. (ET/PT) on TBS. Since it premiered in November 2010, CONAN has been a hit with TBS's core audience of young adults, scoring a younger median age than any other late-night talk show.
"When we invited Conan O'Brien to come to TBS, we knew he would bring with him a passionately loyal following of young adults," said Michael Wright, president, head of programming for TBS, TNT and Turner Classic Movies (TCM). "Conan and his colleagues at Team Coco have gone far beyond that by making CONAN the top late-night brand in the digital arena. We are proud to extend our relationship with Conan as he continues to forge the future of late night. I just wish we didn't decide to tell him on April Fools' Day."
CONAN leads the late-night crowd when it comes to online activity and engagement, with the show and its host drawing more than 8.3 million followers on Twitter, 2 million fans on Facebook, 2 million unique users each month on TeamCoco.com and 15 million video views each month on TeamCoco.com and YouTube. In addition, the groundbreaking Team Coco app – which delivers streaming content synchronized with episodes of the show – won the 2012 Emmy® for Outstanding Creative Achievement in Interactive Media Enhancement.
What do you think about this? Are you happy Conan got renewed?  Follow me on Twitter for more scoop on shows getting renewed like Conan, or check the complete and updatable lists of renewed shows of 2013 and cancelled shows of 2013.
Comments
comments