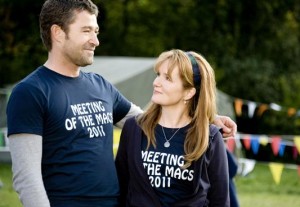 Just as summertime starts to really heat up, Hallmark Movie Channel is treating its viewers to a new kind of Big Mac Attack with this world premiere starring Lea Thompson, who you should remember as Marty McFly´s mother in the Back to The Future saga.
Here, Lea Thompson – who also starred in Jane Doe and Caroline in the City – portrays a divorced mom named Lily MacDougal drawn by fate to a divorced dad named Conor Mac Dougal, played by Covert Affiars´ Steven Brand. Each of them brings their kids to Scotland for a national Mac-style competition called the "Meeting of the Macs". Then wouldn´t you know, there´s a mix up and Lily, Conor and their children are double booked to the same small cabin. Yes, you guessed what happens next, it´s too late to plan for different arrangements and they have to stay all together. The families are forced to enter the competition as a single team.
Of course, you also guessed it, they don´t start liking each other right away… how about later?
Will you watch The Cabin on Hallmark Movie Channel July 30 8PM? Let me know in the comments section.
Also, remember to follow me on Twitter for more Hallmark Movie Channel scoop.
Comments
comments