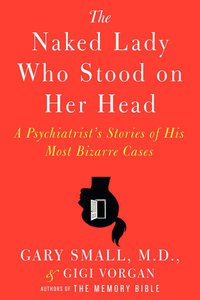 If you are a TV Medical / Psychiatry Show fan like House MD, In Treatment, Mental, Grey´s Anatomy, Huff, and a large etcetera, there is a book that is a must! It appeared on bookshelves across the country on September 28th, and globally sold on Internet.
The book is called The Naked Lady Who Stood on Her Head: A Psychiatrist's Stories of His Most Bizarre Cases and the authors are renowned psychiatrist Dr. Gary Small and his wife, Gigi Vorgan.
The Naked Lady who stood on her head is a recount of Dr. Small's most bizarre cases, from naked headstands (hence the title: The Naked Lady who stood on her head) and hysterical blindness to fainting schoolgirls and self-amputations.
The book is written in cronological order and starts in 1978 with the first case called Sexy Stare, in which we learn that the best patient every psychiatry craves is called the YAVIS: Young, Attractive, Verbal, Intelligent and Wealthy (The S stands for $).
I had the chance to read the book since Authors on the Web folks were kind enough to send me a copy, and it took me three working days to read it completely (in working days I have less and less time to read than on weekends, of course).
If I had to say what are the best things about The Naked Lady Who Stood on Her Head, I´d list several:
Top ten things I liked about The Naked Lady Who Stood on Her Head
Dr Gary Small does not take an "I know it all approach" when telling the stories therefore making them much more likeable to read.
There is sort of a TV Episodic way of telling the stories. It takes you about 40 minutes to read a chapter, and you see the mistery at the beggining and how it unwraps and gets resolved. If you are a fan of Medical or Psychiatry TV Shows you´ll love the style.
The literature quality of the storytelling. It´s not a lecture from a psychiatry expert, it´s not a case study. It´s a book with great flow and written by a savvy writer (My bet is we have a lot to thank Gigi Vorgan in that department, but that´s just my guess).
You read, you learn. Not only reading is a good brain and imagination exercise, but also, in this book Dr Gary Small explains the technicalities and science and concepts in crystal clear paragraphs even I could fully understand!
Mnemotechnia: In this book Dr Gary Small tells you the mnetechnia rules he used to study different syndroms, they are not only funny, but easy to remember.
The Behind the Scenes: One always wonders what is the therapist thinking. Gary Small tells us that on The Naked Lady Who Stood on Her Head. And that´s refreshing. He shows psychiatrists are humans.
Highs and Lows, Ups and Downs: The stories are a miryad of different personalities, so each case and every story is different from the prior one. You can laugh, you can get surprised, you can even think its fiction or even you can empathize with the cases. Diversity is a plus.
The main story evolution: Behind the separate stories you can follow the growth of the psychiatrist himself, from his early begginings in the seventies to his becoming an expert and how he struggled to get that expertise.
The Big Words: I feel already smarter after reading The Naked Lady Who Stood on Her Head and I´m anxious to have conversations where I can slip in a: "Dysmorphophobia, Pseudocyesis or Psychogenic Polydipsia" comment.
The Flawless Harper Collins´ Edition: Nothing is better than a handbook you can actually handle. Its size is good, you can carry it on your purse or in my case, in my notebook briefcase, you can read it in the bus or subway, and the words are a very readable size you won´t get tired of reading after a few minutes.
The Naked Lady Who Stood on Her Head is a very nice book I just read, and it´s very TV related. If you like Medical or Psychiatry shows, you´ll enjoy this book.
How to buy The Naked Lady Who Stood on Her Head?
You can either buy it online at Amazon.com (both hard cover and Kindle editions), at Barnes & Noble, at Harper Collins site (In E-Book, Hard cover or audiobook formats).
Who are Dr Gary Small and Gigi Vorgan?
Dr. Gary Small is a professor of psychiatry and director of the UCLA Center on Aging at the Semel Institute for Neuroscience & Human Behavior. His research, supported by the National Institute of Health, has made headlines in the Wall Street Journal, New York Times, and USA Today. Scientific American magazine named him one of the world's leading innovators in science and technology. Dr. Small lectures throughout the world and frequently appears on The Today Show, Good Morning American, PBS, and CNN. He has written five books, including The New York Times best seller, The Memory Bible.
Gigi Vorgan wrote, produced, and appeared in numerous feature films and television projects before teaming up with her husband, Dr. Gary Small, to co-write The Memory Bible, The Memory Prescription, The Longevity Bible, iBrain, and The Naked Lady Who Stood on Her Head. She lives in Los Angeles with Dr. Small and their two children.
Videos From Dr Gary Small talking about The Naked Lady Who Stood on Her Head
The case: Take My Hand Please video review by Dr Gary Small

The case: Sexy Stare video review by Dr Gary Small
The case: Fainting Schoolgirls video review by Dr Gary Small
If you read the Book The Naked Lady who Stood on her head let me know if you agree or disagree.
Also, remember to follow me on Twitter for more Book reviews and TV Shows contents.
And if you are an author or editor and want me to review your book, contact me following these steps.
I´d love to be helpful and promote good interesting books.
Keep reading!
Comments
comments