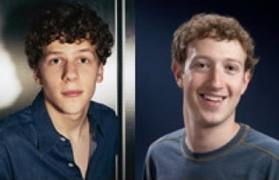 We are reviewing the Complete List of Golden Globe Awards winners of 2011.
Michael Douglas is on the stage, and everybody is on their feet. "There´s gotta be an easier way to get a standing ovation" says and everybody applauds. He´s here to present the best motion picture drama.
The Nominees are:
BEST MOTION PICTURE – DRAMA 2011 Golden Globe Nominees
BLACK SWAN
Protozoa Pictures & Cross Creek Pictures & Phoenix; Fox Searchlight Pictures
THE FIGHTER
Paramount Pictures and Relativity Media; Paramount Pictures and Relativity Media
INCEPTION
Warner Bros. Pictures UK LTD.; Warner Bros. Pictures
THE KING'S SPEECH
See-Saw Films and Bedlam Productions; The Weinstein Company
THE SOCIAL NETWORK
Columbia Pictures; Sony Pictures Releasing
And the Golden Globe goes to The Social Network!
Are you happy that The Social Network wins the Golden Globe Awards for Best Motion Picture Drama?
Follow me on Twitter for more Golden Globe information.
Comments
comments