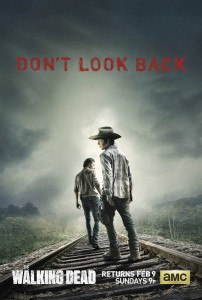 "The Walking Dead" is returning on Sunday, February 9 at 9pm ET/PT, and that is perhaps the most awaited premiere of 2014. After all the show has become a mega hit. So AMC is planning on following up The Walking Dead with two more premieres: Talking Dead and Comic Book Men.
"The Walking Dead" is television's highest rated series and stars Andrew Lincoln, Norman Reedus, Danai Gurira, Lauren Cohan, Steven Yeun among many others. While companion show "Talking Dead" – will premiere the second half of the season that will feature celebrities including Mindy Kaling, Yvette Nicole Brown, Dominic Monaghan and more.
The Walking Dead – Season 4B Premieres Sunday, February 9 at 9pm ET/PT
Following the devastating events of the season finale, Rick and the group are still reeling from the loss of their home, family, and friends. With the destruction of the prison, we see the group of survivors broken apart and sent on divergent paths, unsure of everyone else's fate. What was a challenging life behind fences and walls grows that much more perilous and precious as they are exposed to new dangers, new enemies, and heartbreaking choices. They will have their faith thoroughly tested — a faith that breaks some of them and redeems others.
Talking Dead Returns Sunday, February 9 at 10pm ET/PT
Following "The Walking Dead" season premiere will be AMC's live after show "Talking Dead" at 10pm ET/PT, hosted by Chris Hardwick. The after show features Hardwick spending time with fans, actors, producers and TV enthusiasts, recapping the most recent "Dead" episode, providing sneak-peeks and discussion of upcoming episodes and taking questions and comments from viewers. The series is executive produced by Michael Davies and co-executive produced by Jen Kelly from Embassy Row.
Comic Book Men Season 3B – Premieres Sunday, February 9 at MIDNIGHT ET/PT
Kevin, Walt, Bryan, Michael and Ming are back – behind the counter and in front of the microphone – as AMC's unscripted series "Comic Book Men" returns for the second half of its third season. The show follows the antics in and around master fanboy Kevin Smith's Red Bank, New Jersey comic shop, Jay and Silent Bob's Secret Stash as customers geek-out over mind-blowing pop culture artifacts and iconic celebrities and personalities, including Dean Cain, the O'Donohue Twins and Nichelle Nichols, Uhura from the original "Star Trek" series. Whether it's about buying and selling memorabilia or embarking on wild adventures away from the store, the men of The Stash share all the juicy details with Kevin through their hilarious podcast, which is woven throughout the series.
Will you watch The Walking Dead premiere? Probably, right? How about Talking Dead and Comic Book Men? Follow me on Twitter for more scoop.
Comments
comments