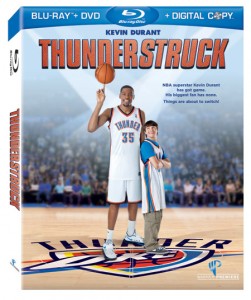 Basketball films are always fun to watch. Wether because of their starnge premises, such as Michael Fox as a Teen Wolf who excels in the game, or an intergalactical game to reclaim the powers of the NBA stars as Space Jam, or because of the emotional and inspiring stories, such as Coach Carter.
Now, paired to the release of Thunderstruck on DVD and Blu-ray December 4th 2012, along with the Thunderstruck Blog App by Warner Bros, I am going to hold a giveaway to win Thunderstruck the film.
What is Thunderstruck about? Synopsis
NBA superstar Kevin Durant plays himself in this action-packed family film about a basketball star who switches talent with a klutzy 16-year-old fan. When Brian (Taylor Gray) magically switches basketball skills with his hero, Kevin Durant, he becomes the star of his high school team… while Kevin Durant suddenly can't make a shot to save his life! But with the playoffs approaching, Brian learns that being a true winner means working hard at your own game, and he tries to make things right in time to prevent a catastrophic end to his hero's season.
WHAT CAN YOU WIN ON THIS thunderstruck RELEASE CONTEST AND GIVEAWAY?
You can win a Combo Pack (Blu-Ray + DVD + Digital Download) of Thunderstruck the movie.
This prize was provided by Warner Bros, but Warner Bros is not a sponsor, administrator, or involved in any other way with this giveaway. Contest open to US residents only.
The contest starts when this article goes live and lasts until December 7th 12 PM PT.
HOW TO ENTER thunderstruck RELEASE combo PACK CONTEST AND GIVEAWAY?
Head to the comments and answer me this, Which is your favourite Basketball movie ever and why?
challenge yourself to the free throw extravaganza in this BLOG APP
Now for the answers, you´ll have to put yours in the comments section (make sure you fill the form with a valid e-mail address and put guillermo @ seriesandtv.com in your white mail list so if you are the winner you can get my e.mail letting you know, since I´ll contact the winner through e-mail).
HOW TO GET EXTRA ENTRIES:
– Like Series and TV on Facebook
– Like this article on Facebook
– Tweet this article
– Pin This Article
– Play the Free Throws game and post your results in the comments section.
Will you enter Thunderstruck BluRay Release Combo Pack contest and giveaway? Let me know in the comments section.
Also, remember to follow me on Twitter for more Contests and Giveaways.
Comments
comments